Experience the Benefits of Establishing a Keep Massachusetts Beautiful Chapter in Your Community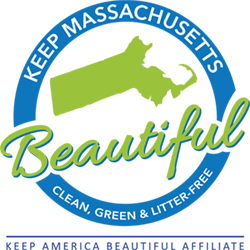 Creating a Keep America Beautiful (KAB) chapter in your community brings the power and experience of the nation's largest community improvement network to your town or city.
From America's largest metropolitan centers to the farming communities of the heartland and everywhere in between, KAB affiliates are combining education with hands-on stewardship to make their communities cleaner, greener, safer, and more livable. In fact, KAB affiliates return an average of $34 for every $1 invested by local government or businesses.
At Keep Massachusetts Beautiful, we provide logistical, communications, and fundraising support to help volunteer, government, and business leaders leverage our resources and programs to create cleaner, greener communities. We offer two models for groups that are interested in affiliating with us.
Establish a state-level Keep Massachusetts Beautiful chapter
Under this model, we provide hands-on support to help your volunteer group get organized and set up for long-term success. Our support services include:
Creation of chapter logo
Creation of a dedicated chapter page on the Keep Massachusetts Beautiful website
Creation and delivery of a customized e-newsletter
Creation and ongoing support for a Facebook page and Twitter feed
Assistance with creating and executing fundraising campaigns
Logistical and planning support for local Great Massachusetts Cleanup events
Assistance with public relations efforts
Keep Massachusetts Beautiful charges annual dues of $500 to provide these services. Local chapters can choose a package of support services that best meet their needs.

Establish a national-level Keep Massachusetts Beautiful affiliate
Under this model, the staff at Keep America Beautiful's headquarters provides hands-on certification training. Keep America Beautiful is the nation's largest community improvement organization with more than 600 affiliates across the U.S. Currently, there are four certified KAB affiliates in Massachusetts:
At the end of the certification training process, your organization becomes a fully certified KAB affiliate and is eligible for the following benefits:
Opportunities for Grants and In-Kind Donations. KAB's partnership with government agencies and the business community provides significant financial support to KAB affiliates. These competitive grants promote volunteerism, beautification, community greening, litter prevention, recycling, waste reduction, and more. KAB affiliates have received grants and in-kind services valued at more than $12 million over the past few years. These grants allow affiliates to further KAB's mission to build and sustain vibrant communities.   
Training & Tools. KAB's professional staff guides the development of every affiliate through the certification process. This includes a half-day on-site pre-certification workshop, help establishing a local board of directors, goal setting, and a second half-day certification training. Ongoing learning opportunities are available through KAB's educational webinars and the annual conference, which is open only to fully certified KAB affiliates.
National Credibility, Support & Recognition. With more than 50 years of strategic partnerships, public service advertising, and nationally recognized programs, KAB attracts national attention that directly benefits affiliates. Support from KAB staff members is only a phone call or email away.
KAB charges an upfront certification fee that ranges from $1,000 to $4,000 (depending on population) and annual dues that range from $50 to $500.
Rather than going it alone, why not learn from the collective experience of 600+ KAB affiliates across the U.S.?
Contact us to learn more about the benefits of forming a state-level Keep Massachusetts Beautiful chapter or a fully-certified KAB affiliate.
---