Experience the Benefits of Establishing a Keep Massachusetts Beautiful Chapter in Your Community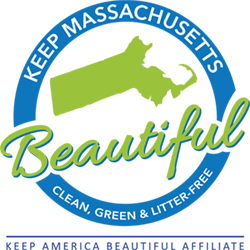 At Keep Massachusetts Beautiful, we provide the support your community needs to launch a successful, enduring local chapter. We provide hands-on support and guidance to help you get organized, pursue your mission, and achieve success over the long term. Using our proven programs and resources, you and your team can build a cleaner, greener, more beautiful community.
Our support services include:
Creation of chapter logo
Creation of a dedicated chapter page on the Keep Massachusetts Beautiful website (or help with creating your own website)
Creation and delivery of a customized volunteer e-newsletter
Creation and ongoing support for your chapter's social media presence
Assistance with creating and executing fundraising campaigns, including online donations
Fiscal sponsorship services for fledgling nonprofits
Logistical and planning support for local Great Massachusetts Cleanup events
Assistance with public relations efforts
Local chapters can choose a package of support services that best meets their needs in exchange for modest annual dues.
Contact us to learn more about the benefits of forming a Keep Massachusetts Beautiful chapter.
---