Operation Clean Sweep New Bedford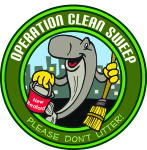 Hosted by: Barry's Fine Wine & Spirits
When: Saturday, August 19th from 8:30 – Noon
Where: Meet at parking lot at corner of Summer and Elm Streets, near Carney Academy in New Bedford
How to Volunteer:
Call: 508.979.1493 (pre-registration is not required but sure helps with planning - and it's super easy!)
On the Day of the cleanup: Sign up/check in at OCS Tent
• Check in starts at 8:30 am, sign in and get your sweet volunteer T-Shirt
• Have a yummy breakfast provided by our Host.
• While you're munching, review the safety notes.
• Remember to fill you cool personalized reusable water bottle before you check out your cleanup tools.
• See the logistics coordinator for your cleanup area.
Walk, carpool or be transported to your cleanup location. Tie bags in a knot and put them at the nearest corner. Bags down at 11:15 am, so you can get back in time for Domino's pizza at 11:30. Yup, you're gonna get fed again and that's why our Host provides Restroom facilities.
• We'll provide the gloves and tools, you provide the smiles!
• Wear closed-toe shoes
If you volunteered at a previous cleanup, please remember to wear your green volunteer tee shirt and bring back your reusable water bottle!