24th Annual Source to Sea Cleanup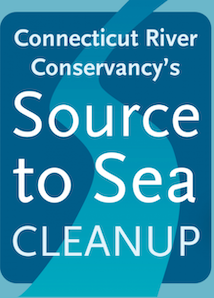 Get dirty for cleaner rivers! Hard Work, Real Fun, True Impact!
The Source to Sea Cleanup is an annual trash cleanup of the Connecticut River and tributaries across the four-state watershed — NH, VT, MA, & CT. Thousands of volunteers like YOU help make the water cleaner, river banks safer and wildlife happier. This 4-state community event is possible thanks to the generous help of volunteers, sponsors, businesses, watershed organizations, Girl Scout and Boy Scout Troops, school groups, municipalities, and community members. Thank you!
COVID-19 Safety Precautions:
Cleanup Month –
This year, the Source to Sea Cleanup has been expanded to the entire month of September. Participants can clean up any time during September to ensure safe physical distancing from others.
This year, the Source to Sea Cleanup will have smaller group sizes. Rather than finding a group near you to join, please create your own group and clean up only with people you already know. You can register as an individual, family/household group, or a small non-family group.
Due to limited capacity this year, we encourage individuals and small groups (5 or fewer) to consider a DIY approach and gather supplies from around your home. If you need to order supplies from CRC, first complete your registration form to receive a link to the supply order form. Please fill out the supply order form at least 2 weeks before your cleanup date.
We ask all participants to wear proper personal protective equipment, including gloves and a mask, practice safe physical distancing, and follow mandates provided by state and U.S. health agencies.
Source to Sea Cleanup Shindig –
Join us for our first-ever online after-party — one culminating watershed-wide Cleanup Shindig (on Zoom).
*Connect with others who got dirty for cleaner rivers across the four Connecticut River states.
*Be the first to see a video of the completed River Witness mosaic. You can add your images to the mosaic!
*Enjoy a photo slideshow, videos, awards, and more! We'll celebrate all that we've collectively accomplished – together yet apart.
Please visit our website via the link below to Register and see more important details!