2020 Massachusetts Clean Community Awards Gala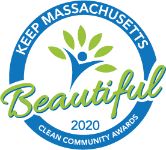 The 2020 Massachusetts Clean Community Awards recognize Massachusetts residents, nonprofits, government leaders, and businesses for exceptional environmental protection and community cleanup efforts.
Join us on Thursday, September 17 from 6:30 p.m. to 9:30 p.m. as we recognize our 2020 award winners. This celebration will be full of inspiring stories, tasty food, open bar, entertainment, raffles, and silent auction!
Silent auction items include a wine tasting class for 20, a tour of the Sam Adams brewery, and a two-night stay at Mohegan Sun Casino & Resort, and more.
Our award winners for 2020 will include:
KMB Environmental Legislator of the Year
KMB Business Partner of the Year
KMB Chapter Leader of the Year
KMB Rookie Chapter of the Year
KMB Litter Buster of the Year
KMB Municipal Partner of the Year
Schedule of Events:
6:30-8:00: Passed hors d'oeuvres, desserts, cocktails, conversation, and music
8:00-8:45: Awards presentations
8:45-9:00 Merchandise raffle and silent auction concludes
9:05: 50/50 raffle results
Click the link above right to get your tickets now. Note: Members of dues-paying KMB chapters can purchase up to 6 individual tickets or a table for 8 at a 25% discount to these prices.
Location: The Lyman Estate at 185 Lyman St, Waltham, MA 02452.
Free parking available onsite.
Sponsorship opportunities are available! Contact us if your business would like to participate as a corporate sponsor.