2020 Massachusetts Clean Community Awards Presentation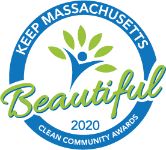 The 2020 Massachusetts Clean Community Awards recognize Massachusetts residents, nonprofits, government leaders, and businesses for exceptional environmental protection and community cleanup efforts.
Join us on Thursday, November 5 from 7:00 p.m. to 8:00 p.m. as we recognize our 2020 award winners!
Auction items include a wine tasting class for 20, a tour of the Sam Adams brewery, and a two-night stay at Mohegan Sun Casino & Resort, and more.
Our award winners for 2020 will include:
KMB Environmental Legislator of the Year
KMB Business Partner of the Year
KMB Chapter Leader of the Year
KMB Rookie Chapter of the Year
KMB Litter Buster of the Year
KMB Municipal Partner of the Year
Click the link above right to register for the Zoom presentation now.
Sponsorship opportunities are available! Contact us if your business would like to participate as a corporate sponsor.