REiMAGINE ROCKLAND - Community Clean Up Day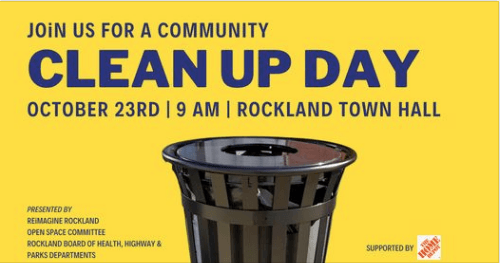 We are excited to bring back Clean Up Day and encourage everyone to join us! We will meet at Rockland Town Hall to kick off the day. Areas covered will be the Rail Trail, Rockland Town Forest, Hartstuff Park and the Town Hall area. Trash bags will be supplied by Home Depot for volunteers to utilize. We recommend bringing gloves and grabbers.
Note: Be aware of mosquitoes, ticks, poison ivy, and thorns. Please maintain social distance. We appreciate your consideration. Children must be accompanied by adults.
The Community Clean Up Day is presented by the Open Space Committee, REiMAGINE ROCKLAND, Board of Health, Highway, and Park Departments, and supported by Home Depot.
For more information, email Don Cann at lndgame@aol.com or Emily Davidson at emilydavidson936@gmail.com.