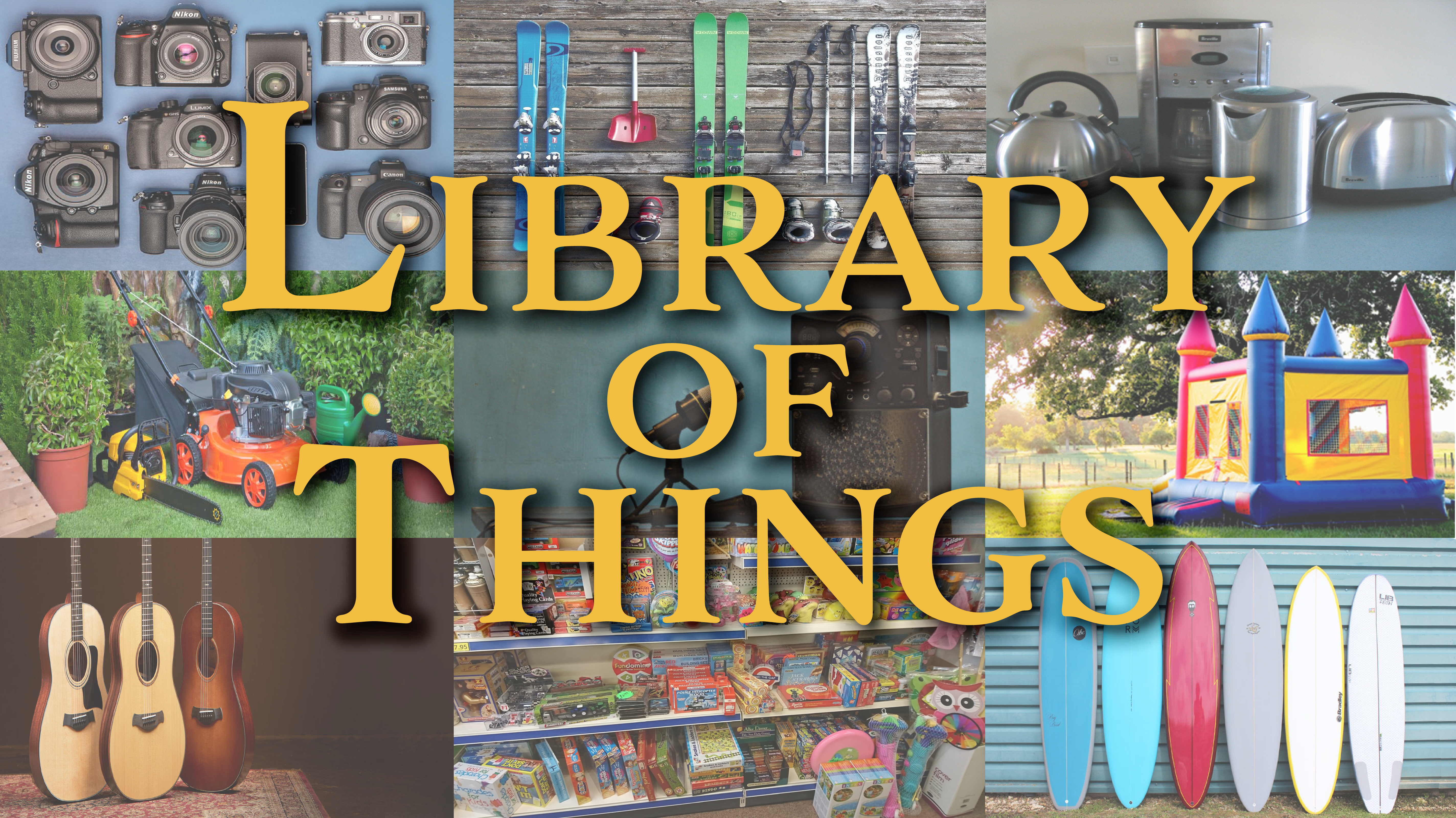 Have you heard of a Library of Things? If you haven't, prepare to be excited! A Library of Things is a shop (and sometimes a local library) where you can go to borrow all sorts of items. Need to prep a spring garden but don't have the ability to invest in and store a tiller? Borrow one. Need a bubble machine for your daughter's sixth birthday? You got it. How about a huge coffeepot for that event you're hosting? You're in luck! Ready to take those guitar lessons you've been putting off? Head on over to your local Library of Things and browse the available instruments! 
But it doesn't stop there. The items you can borrow run the gamut from the most basic kitchen utensil (think blender, food processor) to commercial grade yard equipment (think backhoe), and everything in between. And just as no two communities are exactly the same, no Library of Things is the same as another. 
A Library of Things in a town with a few colleges may offer products geared toward college students, like lots of bicycles for getting around campus. A Library of Things in a city may offer cameras, mopeds, or the type of equipment that a city dweller may want to use but doesn't have room to store (perhaps a carpet shampooer). A Library of Things in a coastal town may offer surfboards, skim boards, sand toys, and umbrellas, in addition to more common household products. You get the picture.
But that's not all. A Library of Things may even offer classes given by community volunteers who are experts in specific fields. Perhaps classes in art, computer, dance, music, cooking, coding, and the list goes on. Some offer fix-it services when community members with such expertise want to volunteer their time (maybe a toaster or a lamp you love stopped working). It all depends on the people in that community who get involved, which is exactly what makes each Library of Things unique to its community.
So, now you know it's a pretty great idea, right? But let's talk about the main reasons for the existence of a Library of Things. It reduces consumption and waste. We are over-consumers. We buy and buy and buy and then we discard, discard, discard. And that's doing so much damage to our planet. 
Consuming more than we need uses natural resources at a rate that is dangerous to the earth. Reducing our consumption and our waste helps our environment in a huge way. When you don't buy that power saw and borrow it instead, you affect a whole chain of events that would have taken place if you bought a new saw—the production (resources), the storage, the transport, and the discarding of that power saw when you need to downsize or no longer want it. The simple act of borrowing stops a whole slew of environmental hazards. 
Libraries of Things have been popping up in communities all over the world—in the UK, Canada, Germany, the Netherlands, Australia, Slovenia, Switzerland, and the US, to name a few—and they're incredibly successful. They offer a great service, they build community, they're sustainable, and they reduce waste. They're sometimes located inside a public library, and they're sometimes their own store. A great example of a freestanding Library of Things store is SHARE: Frome in England.
In Massachusetts, a good number of traditional libraries are offering a Library of Things service. Public libraries in Arlington, Concord, Natick, Newton, Norwood, Chelmsford, Lexington, Reading, and Waltham all offer a Library of Things service. To see more towns in Massachusetts that offer such a service, check out this map. 
If you've read this far, maybe you're starting to think you want to get involved in this Library of Things idea. Maybe you want to start one in your community but need more information? Hello, internet. This article from Shareable is a great place to start. It recommends getting a team together of three to seven people with diverse skillsets as the first step in creating your community's Library of Things. Another very helpful resource that includes links to forms and applications you may need, as well as lots of additional information on the topic, can be found at myTurn. 
So let's talk funding. MassDEP provides funding to operate a Library of Things in cities and towns in Massachusetts. Municipalities can use annual grants earned through the Recycling Dividend Points (RDP) program or they can apply for other grants from MassDEP that range from $10,000 to $100,000. Private donor funding is another option to help fund a Library of Things.
Starting a Library of Things is a great way to build community and get to know the people who live in your city or town. It's a way to work together to help one another and the planet at the same time. Think of the people you'll meet and the friends you'll make! So, consider starting a Library of Things or just getting involved in an existing one in your community. You could make a big difference in your little corner of the world and in the health of our planet.