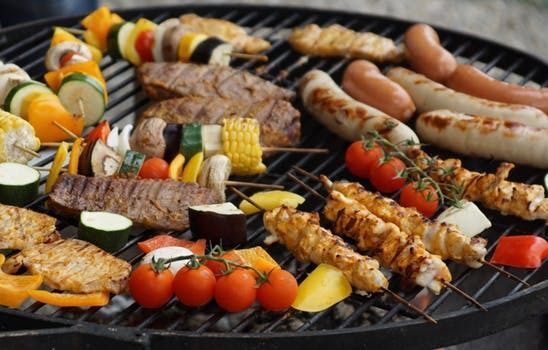 Summer is here and that means cookout and BBQ season is in full swing! It is the perfect time of year to enjoy a meal outdoors, but unfortunately, this al fresco dining often leads to increased use (and disposal) of single-use materials. However, sustainability and a good cookout do not have to be mutually exclusive! These seven tips will help you reduce waste and even save money when planning your next cookout.
1. Reduce Single-Use Plate & Serving Dishes
Single-use plates and dishes are easy to use because they require no cleanup! While the convenience of this is tempting, the waste it creates is tremendous. The first fix to this problem is to simply use reusable plates and serving dishes. Making this one simple change will have a huge impact.
However, if you're hosting a large crowd, this may not be an option as you may not own enough to go around, or you might be concerned about glass or ceramic items being broken outside. If this is the case, opt for reusable plastic, recycled plastic, or compostable products.
Preserve is a Massachusetts-made brand that sells whole sets that would be perfect for your next outdoor event! Their material is made of 100% recycled plastic and can be reused or sent back to Preserve for repurposing. Another fun option is to swap out plates for retro-style baskets like these. They provide a fun nod to classic American eats, are easy to clean and reuse, and are even easy to stack and store.
2. Avoid Single-Use Cutlery
Similar to plates and serving dishes, single-use cutlery is convenient but creates a ton of waste (FYI: plastic cutlery is not recyclable). A workaround for this issue is crafting a menu of mostly handheld foods. The beauty of a BBQ is that most food is already this way!
Popular items like burgers, hot dogs, chicken wings, and corn on the cob don't require any utensils to eat. Try to incorporate as many of these items as you can. It can remove the need for utensils entirely! A quick search on Pinterest for "handheld summer eats" can spark a lot of inspiration beyond your normal staples.
If you do need to use cutlery, aim to make sure the bigger serving spoons (spoons for salads, tongs for meat) are reusable. You tend to not need as many of these and you can probably find all you need in your kitchen. For your guests, provide reusable plastic, recycled plastic, or compostable products. Preserve again offers great recycled options.
Lastly, if you do have any plastic or single-use cutlery, make sure you and your guests know not to place these items in the recycling bin. They cannot be recycled by most facilities and can often clog and jam the recycling stream.
3. Serve Drinks in Reusable Cups With a Refill Station
Creating a refill station with a themed drink can help reduce plastic, reduce spills, and add a fun touch to your party. Create a big batch of your favorite soda, tea, or punch, and place glasses, cups, and/or jars nearby for guests to refill and reuse. Don't forget some name tags, charms, or markers so guests can mark their drinks if desired. Need to buy a dispenser? Check out a list of some of the best beverage dispensers here.
If you do provide other drinks in cans or bottles, be sure to have a clearly marked recycling bin near the trash bin for guests to use. Aluminum cans are the easiest to recycle, so if you have an option between them and plastic, opt for aluminum, especially if you're planning to provide bottled water.
4. Skip the Straws (or Use Eco-Friendly Options)
If you or your guests desire straws with your drinks, opt for paper, bamboo, or aluminum options. Plastic straws often become pollutants to our environment and impact marine life. This article links some plastic straw alternatives for a business, but the same can be applied to your next festivity.
5. Invest in a Better Table Cover
If you are concerned about mess and damage to your tables while hosting a party, table covers are a good fix. However, single-use plastic options have a lifespan as short as that of your cookout. Instead, opt for a reusable linen or cloth option that you can wash and pull out for your next event. Have a really messy crowd? You can also purchase a compostable table cover or a waterproof table cover that can be easily wiped down. No stains will seep through these!
6. Create Your Own Decor
Save your money and skip the streamers, balloons, and other single-use decorations you'll find at the party stores. These often end up in the trash and pollute our environment. Think outside the box by reusing home goods as decorations, buying reusable decorations, or incorporating your food to be the star of the show!
A few ideas include creating decorative food items (check out this Shark Week-themed fruit salad!), decorating chalkboards you can reuse at other events, buying themed or decorative pool floats you can use for next year's parties, or buying reusable banners and backdrops that you can customize to fit your theme.

7. Don't Cook Too Much!
While cookouts and BBQs are generally not formal events, encourage your guests to RSVP so you can have a more accurate head count and can plan your menu accordingly. This will ensure you are not left with too many leftovers, which often end up in the trash.
If you do have leftovers, encourage your guests to take some home, store them in your freezer and fridge for the week, or donate items to your local food pantry if possible.