The Board of Directors for Keep Massachusetts Beautiful oversees the organization's operations and sets policy.
Board members contribute their expertise, passion, and skills to help us fulfill our mission. This may include serving on or leading a committee, fundraising, or offering guidance. If you are interested in joining our board, please contact us.
Neil Rhein, Founder & Executive Director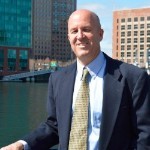 After the amount of litter in his hometown of Mansfield, Mass. became too much for him to bear, Neil Rhein decided to organize a committee of local volunteers to clean it up. The success of the first Great American Cleanup of Mansfield in 2008 led to the formation of Keep Mansfield Beautiful.
Since its inception, Keep Mansfield Beautiful has drastically reduced the volume of litter, beautified public spaces, fostered a sense of community pride, and delivered volunteer labor and in-kind donations worth more than $300,000 to the town of Mansfield. In the process, the town has been become a cleaner, greener place to live, work, and play. In 2014, Neil founded Keep Massachusetts Beautiful to help bring these successful programs to towns and cities across the state.
When he's not volunteering his time, Neil operates Bullseye Communications, where he provides professional writing, editing, proofreading, and graphic design services to corporate clients. He also runs GreenCents Communications, where he helps municipalities, schools, and recycling companies teach people how to recycle correctly. Neil resides in Mansfield, MA with his wife and two daughters (and Pogo the dog).
Board of Directors
Jane Ellis, Board President

Jane Ellis brings to her role with Keep Massachusetts Beautiful extensive experience in the for-profit, non-profit and public sectors. She has held general management positions in a variety of organizations. Prior to joining Tower Hill Botanical Garden as Chief Financial and Operating Officer, she was Vice President of Operations for Boston Harbor Island Alliance, the non-profit partner operating Boston Harbor Islands national and state park. In this capacity, Jane managed various earned income streams as well as providing financial and administrative oversight for the organization.

Jane also served as the first executive director of the Martha's Vineyard Land Bank. She has 20 years' experience managing law firms and a professional background that includes a variety of positions that run the gamut from property management to broadcast journalism.

Jane lives in Mansfield with her husband, Perry, a teacher-naturalist with Mass Audubon, and their daughter, Laura.

Thomas Mackie, Board Member

Thomas A. Mackie is an environmental business lawyer and Managing Shareholder of the Boston environmental law firm of Mackie Shea, PC. For over thirty-five years he has advised companies in the environmental industry and other businesses facing environmental issues. He handles facility siting, environmental and land use permitting, appeals, regulatory compliance, enforcement defense, brownfields projects and liability claims.

Currently, Thomas serves as Chairman of the Board of the Environmental Business Council of New England, and on the Board of Trustees of the Virginia Thurston Healing Garden. He regularly presents at seminars on environmental law and regulation for the EBC, Boston Bar Association, Massachusetts Continuing Legal Education, and other organizations. For the last fifteen years, he has authored the chapter on "Massachusetts Solid Waste Law and Regulation" in the Massachusetts Environmental Law treatise published by MCLE. In 2016 he was named to the MassDEP's Solid Waste Advisory Committee,

Mr. Mackie graduated from Hobart College and earned his J.D., cum laude, from Suffolk University Law School. He is admitted to practice in Massachusetts and New York.

Andy Bank, Treasurer

After graduating with distinction from Babson College, Andy Bank received his CPA and gained valuable experience working with Ernst and Young. At International Forest Products Corporation, a leading paper and pulp importer/exporter, Andy managed the eight-person accounting/finance department. He assumed responsibility for preparing periodic financial reports to senior management and overseas subsidiaries, as well as overseeing all required tax filings and audits. After 10 years of experience in finance, operations, and public accounting, Andy joined Triton Technologies in Mansfield, MA as the company's Chief Financial Officer and Chief Operating Officer.

Amanda Bagwill, Board Member

Amanda Bagwill is Senior Brand Manager at TripAdvisor, the world's largest travel site, headquartered in Needham, MA. There, she oversees marketing and promotions for their largest product, hotel booking, as well as leading overall strategy positioning for the TripAdvisor brand. Before TripAdvisor, Amanda was a Campaign Director for the Ad Council, the nation's largest non-profit organization that produces, distributes and promotes campaigns that improve everyday lives. There, she oversaw the national Recycling campaign for the client Keep America Beautiful, the parent organization of Keep Massachusetts Beautiful. Amanda is passionate about beautification and sustainability and is proud to represent the state of Massachusetts, her new home, on its mission to be litter-free.

Massachusetts State Representative F. Jay Barrows, Board Member

Jay Barrows has represented the first Bristol District in the Massachusetts House of Representatives since 2006, where he serves on the Health Care Financing Committee and the Ethics Committee. Jay is also president of Barrows Insurance agency in Mansfield, MA.

Previously, Jay served as Chairman of the Mansfield Industrial Development Commission. He is past president and current board member of the Tri-Town Chamber of Commerce and serves on the Board of Directors for the Hockomock YMCA. Jay was a founding member of the Great American Cleanup of Mansfield and serves as an advisory board member for Project Green Schools. In his free time, Jay enjoys boating and spending time with family and friends.

Bonnie Combs, Board Member

Bonnie Combs is a passionate and active environmentalist who dedicates her time to causes that help make the world a cleaner and better place. Over the past 20 years, she has volunteered her time in cleaning up the Charles River, the Blackstone River, and countless other community cleanups. She is Marketing Director at Blackstone Heritage Corridor, Inc., and manages its Trash Responsibly™ program, impacting 25 communities within the Blackstone River Valley National Heritage Corridor. She has launched several new recycling programs targeting monofilament fishing line, Styrofoam, and plastic. In 2016, she received the Environmental Leader Award from the Blackstone Valley Chamber of Commerce.

Jeffrey Ward, Board Member

Jeffrey Ward is President and CEO of RPM Associates, a fulfillment/marketing firm in Hingham, MA. He is passionate about protecting the environment and reducing the amount of litter in Massachusetts. Jeffrey lives in Mansfield, MA with his wife and two daughters. In his free time, he enjoys working in his yard and playing golf.
Join Our Board!
We are currently seeking talented people to serve on our Board of Directors. In particular, we are seeking people who are passionate about cleaning up and beautifying our communities and who have experience in finance, fundraising, communications, public relations, social media, law, or other specialties.
If you are interested in serving on our Board of Directors, please contact us.