The Massachusetts Clean Community Awards recognize volunteers, nonprofit leaders, government leaders, businesses, and municipal partners for exceptional environmental protection and community cleanup efforts. Nominations for the 2021 Massachusetts Clean Community Awards are now open. Submit a nomination today!
We presented our 2020 Clean Community Awards virtually via Zoom on December 3. While we would have preferred to celebrate in person, it was a pleasure to bring so many caring environmental and community service heroes together for one evening.
If you were unable to attend our awards presentation on December 3, 2020, you can view a recording here.
A special thanks to our special guest, former Governor Michael Dukakis, for his perspectives and service to the Commonwealth of Massachusetts. We also appreciated Senator Paul Feeney for joining us and sharing his inspirational thoughts!
Our 2020 class of Clean Community Award winners included:
---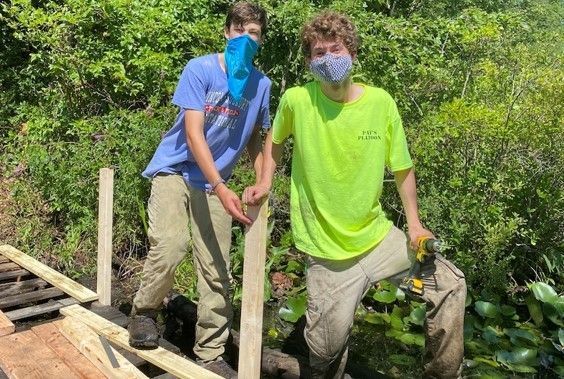 2020 Youth Volunteers of the Year: Nate Lord and Ben Feldman of Natick

This award recognizes a youth age 21 or younger for outstanding volunteer work on behalf of a local Keep Massachusetts Beautiful chapter or a related group that focuses on litter prevention & cleanup, waste reduction & recycling, beautification & community greening, or environmental education.
Over the course of 2020, Nate Lord and Ben Feldman of Natick devoted many hours to Keep Natick Beautiful, during which they:
Picked up trash and cleaned out "party pits" at wooded areas along Natick's trails, woodlands, and waterways.
Built bridges over marshes, wading into the streams and mud, using hammers, drills, saws, and weed-clearing tools.
Helped purchase and haul lumber and tools into position for the Annual Natick Trails Day.
Maintained the KNB Trash – Recycle Buddy Bin system all over town.
Removed large furniture (couches and lounge chairs) dumped along our trails and ponds
Sharpened, repaired, and maintained tools (chainsaws, loppers, drills, etc.)
Moved the KNB Canoe and Boat Trailer into winter storage (during an October snowstorm!)
Thank you to Nate Lord and Ben Feldman and congratulations for being named our 2020 Youth Volunteers of the Year!
---
2020 Litter Buster of the Year: Shirley Graf of Halifax

This award recognizes an individual Massachusetts volunteer for his or her efforts to prevent and/or clean up litter in their community. It's for those unsung heroes who do the dirty work of cleaning up other peoples' messes.
What sets Shirley Graf of the Halifax Beautification Committee apart from the other amazing litter busters is her passion for the scourge of "nip litter" (small liquor bottles also known as "miniatures.") Starting in January 2019, Shirley began documenting the nip bottles that she picks up on her daily work commutes. She even created a "Nip Collection" spreadsheet. As of December 2020, Shirley had collected more than 6,000 empty nips. She then donated these to the Keep Gardner Beautiful nip hunt, netting them a donation of $260 from Anthony's Liquor Mart. 
In addition to nips, Shirley has picked up an estimated equivalent of 40–50 large trash bags of other types of trash in the towns of Halifax, Pembroke, Duxbury, and Marshfield. With her encouragement, the Halifax Beautification Committee persuaded the Halifax Board of Selectmen to support House Bill 2881, which would add a 5-cent deposit on the sale of nips. 
As her nominee wrote: "Shirley always has a smile and an encouraging word and truly inspires others through her actions. It's hard to imagine that there could be a more admirable and deserving candidate than Shirley Graf."
Thank you to Shirley Graf and congratulations for being named our 2020 Litter Buster of the Year!
---
2020 Business Partner of the Year: Anthony's Liquor Mart in Gardner

This award recognizes a Massachusetts business for its efforts to collaborate with Keep Massachusetts Beautiful to clean up and beautify a specific community and/or our entire state. 
Jim Kraskouskas's family has owned Anthony's liquor mart in Gardner for 85 years. The family store has always been a strong supporter of many local community causes and charities. In 2020, however, Anthony's Liquor Mart went above and beyond by sponsoring the Great Gardner Nip Hunt & Litter Cleanup on October 3. 
Anthony's Liquor Mart teamed up with Keep Gardner Beautiful and offered to pay a 5-cent bounty on up to 100,000 empty nip bottles, which equates to $5,000. On October 3, volunteers turned in nearly 50,000 nips that were collected in Gardner and other parts of the state. 
That same day, Jim Kraskouskas wrote a check to Keep Gardner Beautiful for $2,472.00. This campaign will continue during the spring 2021 cleanup as well, with the potential for another $2,500 in funding for KGB. We appreciate Anthony's Liquor Mart and their creative approach to raising awareness about the problem of nip litter (as well as all other types of litter), while also incentivizing people to clean it up.
Thank you to Anthony's Liquor Mart and congratulations for being named our 2020 Business Partner of the Year!
---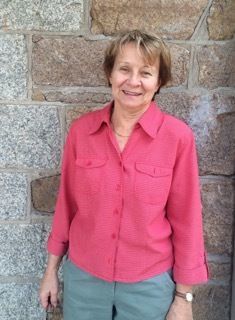 2020 KMB Chapter Leader of the Year: Nancy Wall of Keep Mansfield Beautiful
This award recognizes an established KMB chapter leader for outstanding achievement. 
Nancy Wall was one of the earliest members of the Keep Mansfield Beautiful chapter, which was established back in 2008. She became executive director in 2016.
Nancy is a relentless advocate for cleaning up and greening up the town of Mansfield. In her role as executive director, she oversees the annual spring and fall community litter cleanups, which attract more than 600 volunteers each year. 
Working with other committee members, she runs the successful downtown flower barrel program. This program places and maintains more than 100 flower barrels within Mansfield's downtown area. She also works with KMB's Adopt-a-Spot program coordinator, which beautifies and maintains several public spaces throughout town. Nancy is also a huge recycler and always pushes to make sure that the recyclables get sorted from the trash.
Nancy possesses several qualities that have served her well over the past 12 years with KMB. She is persistent. She will follow up and follow through with town officials, local business owners, and volunteers to ensure that whatever project she's working on gets done. Nancy is also a great leader and team player. She solicits ideas and feedback from the entire committee and the community at large to help build consensus.
Last but certainly not least, Nancy is not afraid to get her hands dirty. She regularly participates in local litter cleanups, even in the midst of a pandemic. She plants flowers, chases down local business owners for donations, and partners with various town officials, including the Mansfield DPW. 
Thank you to Nancy Wall and congratulations for being named our 2020 KMB Chapter Leader of the Year!
 
---
2020 KMB Rookie Chapter of the Year: Keep Fitchburg Beautiful
This award recognizes a KMB chapter that launched within the past 12 months for its impact and community improvement achievements. 
Sam Squailia, an at-large City Councilor in Fitchburg, launched Keep Fitchburg Beautiful (KFP) in February 2020. Between March and May of 2020, volunteers with KFB cleaned litter and raked leaves from 49 parks and streets in Fitchburg. KFB also launched a website and a popular Facebook group with more than 150 members.

In September 2020, KFB was awarded a $500 Plant Something Beautiful grant from KMB. They will be collaborating with the North County Land Trust, the Busy Bees Preschool, and Growing Places to establish community gardens along Quarry Lane in Fitchburg. This community garden is in a densely populated, ethnically diverse neighborhood that has been designated as an Environmental Justice Area by the state of Massachusetts.

Thank you to Sam Squailia and the entire team at Keep Fitchburg Beautiful and congratulations for being named our 2020 Rookie Chapter Leader of the Year!
 
---
2020 Environmental Legislator of the Year: Senator Jamie Eldridge
This award recognizes a Massachusetts legislator for his or her efforts to protect or enhance the Massachusetts environment. 
Senator Eldridge has served the Middlesex and Worcester district since January 2009, representing 14 communities in Metrowest, including his hometown of Acton. He serves on several Senate committees and is the Senate chair of the Clean Energy Caucus.
In his role as co-chair of the Clean Energy Caucus, Senator Eldridge engages with his colleagues, students, energy advocates, and legislators throughout the nation to find a path toward a renewable energy future. He has sponsored several bills that would further protect our environment and reduce our reliance on carbon-emitting fossil fuels, including:
Senate bill 1376 (An Act Relative to Solar Power and the Green Economy) that seeks to grow the use of solar power and other sources of renewable energy, as well as Senate bill 1625, An Act Transitioning Massachusetts to 100 percent Renewable Energy.
Senate bill 896 (An Act Reducing Plastic Bag Pollution) that would create a uniform state-wide standard for reducing the number of plastic bags used in Massachusetts. As you know, plastic bags are a big source of litter. 
Senate bill 1366 (An Act Protecting Pollinators by Eliminating Harmful Products) that would protect pollinators by eliminating harmful pesticides called neonicotinoids. Studies have shown that these pesticides, which are found in products like Roundup, hurt the pollinators we rely on for our food supply. 
Senate bill 1824 (An Act Relative to Environmental Justice and Toxics Reduction in the Commonwealth) that would protect all people from pollution and environmental discrimination. The bill would establish an Environmental Justice Advisory Council to make recommendations to the Governor and Secretariats on critical issues and needs of environmental justice populations. 
The Senator is also a big supporter of conserving open space and supports efforts to make it easier for municipalities to purchase land for rail trails (see Senate Bill 1361–An Act Authorizing Municipalities to Expend Certain Funds for the Acquisition of Land to Be Used for Rail Trails). 
It's clear that Senator Eldridge understands the value of protecting and improving our natural resources and our environment. These causes contribute to everyone's quality of life here in Massachusetts.
Thank you to Senator Jamie Eldridge and congratulations for being named our 2020 Environmental Legislator of the Year!
 
---
2020 Municipal Partner of the Year: Doug Munroe of the Gardner Department of Public Works
This award recognizes a municipal employee for extraordinary efforts to implement sustainable practices and clean up or protect their local environment.
Successful KMB chapters build and maintain strong relationships with the local business community and the local government. Gardner is fortunate to have strong support from local businesses, Mayor Michael Nicholson, the Gardner Health Department, and the Gardner DPW.
Within the Gardner DPW, Doug Munroe is one person who has been particularly helpful to Keep Gardner Beautiful (KGB). Over the past several years, Doug has:
Designed and fabricated countless signs to advertise all of KGB's litter cleanup events, including creative designs that say "Let's get caught picking up litter."
Stenciled and installed 5-gallon buckets and cigarette butt buckets along Gardner's sidewalks for pedestrians to deposit their trash. 
Created magnetic and reflective CAUTION signs that attach to Keep Gardner Beautiful's vehicles.
Thank you to Doug Munroe and congratulations for being named our 2020 Municipal Partner of the Year!
---
Thank you to all the unsung volunteers across our state who do so much to keep Massachusetts beautiful!
Nominations for the 2021 Massachusetts Clean Community Awards are now open. Submit a nomination today!
We have reserved the Lyman Estate for Thursday, September 16, 2021, for our 2021 awards gala. Tickets will go on sale in early 2021.