The band ABBA may be Sweden's best-known export to the U.S., but another Swedish export—"plogging"—has also been gaining in popularity among Americans who are tired of seeing litter every time they go out for a walk, run, or bike ride.
Plogging is a mash-up of jogging and the Swedish term "plocka upp," which means "pick up." The idea boils down to picking up litter while you jog. Other variations include "plalking" (walking while picking up litter) and "pliking" (biking and litter cleanup). 
Plogging not only helps keep your community litter-free, but is also good for your health. Think squats while jogging. According to the Swedish-based fitness app Lifesum, thirty minutes of plogging will burn 288 calories for the average person, compared with 235 calories burned by jogging alone. Lifesum even includes plogging as a trackable exercise on its app.
Plogging and plalking enable anyone to create a cleaner, greener, and litter-free community. All you need is comfortable footwear and a bag for trash. If you have back pain issues, we recommend using a litter-grabber tool. These tools make it easy to clean up hard-to-reach litter embedded in shrubs or brush.
You can get fully equipped with everything you need to clean up litter safely by signing up for the Massachusetts Litter Cleanup Crew. Simply pledge to keep a street or other public space litter-free and we will ship you a Litter Cleanup Kit. Each kit includes a trash-grabber tool, a pair of rubber-lined gloves, a reusable bag, and a nifty T-shirt!
If you want to be even more environmentally ambitious, separate clean recyclables, such as plastic beverage bottles, and drop them in your recycling bin. You will not only be improving your own health, but your local community's health and appearance too!
 
Massachusetts Plogging Groups
Take Your Bike Rides to a Higher Level by Pliking
Pliking is a bit more complicated than plogging and plalking and requires some skills. Peter Walter of Falmouth has been cleaning the Shining Sea Bike Path for the past 20 years. As you can see in the photo here, Peter's bike is fully equipped with bins for trash and recyclables. He also uses a trash-grabber tool so that he does not have to dismount from his bike to collect litter. 
Read 5 Ways to Start Pliking on Your Next Bike Ride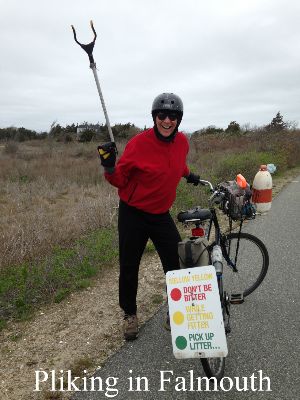 Make It Social
To keep your street, neighborhood, or community litter-free, encourage others to join you in your plogging, plalking, or pliking activities! Start a Facebook group and share your accomplishments. 
Successful plogging groups such as Plogging Newburyport have more than 500 members! 
If you prefer some company, post your plans to go out and plog, plalk, or plike on social media and invite others to join you. 
Tag photos of your cleanup efforts using the hashtags  #plogginginMA, #plalkinginMA, or #plikinginMA to raise awareness and encourage others to join your efforts. You can also collect data on your cleanup efforts by using the Litterati app.
Contact us for more help getting started or search our site to see if a local Keep Massachusetts Beautiful chapter is already running a plogging group in your area.
---