Join the Great Massachusetts Cleanup and help end litter in your community. 
The Great Massachusetts Cleanup provides an opportunity for citizens to join with their neighbors, friends, family, and co-workers to clean up and beautify their local neighborhoods and communities. Each year, volunteers in communities across the state organize litter cleanups, park maintenance projects, tree planting, and other community service events.
These events can be scheduled for any time of the year. But the biggest impact occurs every year on the last Saturday in April. That's when dozens of Massachusetts communities schedule their annual litter cleanup and beautification projects.
Year-to-date through June 30, 2017, Great Massachusetts Cleanup volunteers have achieved impressive results, with more events coming before the year is over: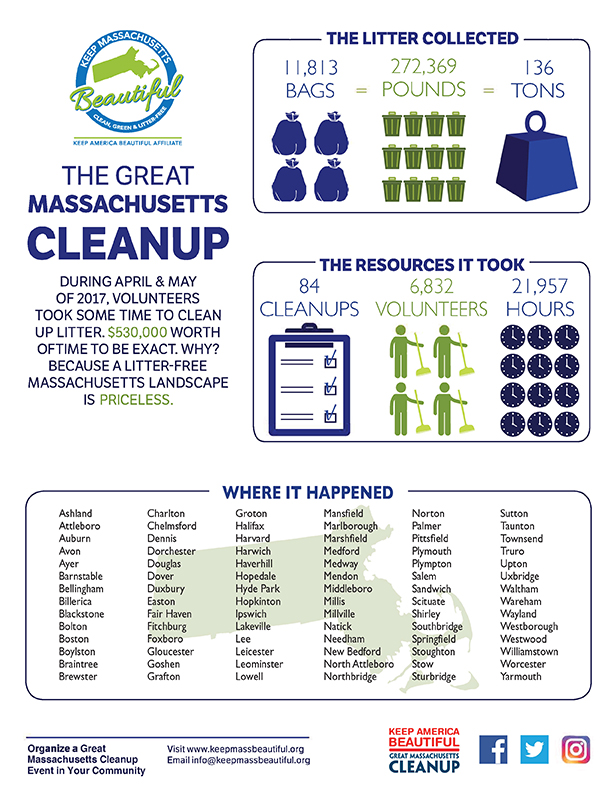 We are seeking volunteer Cleanup Captains to organize litter cleanups in Massachusetts communities this year and beyond. We offer training and guidance to make it easier for you to get your cleanup event organized and attract as many volunteers as possible.
Contact us for more information or download your Great Massachusetts Cleanup Captain Startup Kit documents here:
If your business would like to participate or become a business sponsor of the Great Massachusetts Cleanup, please contact us or visit our business sponsor page to make an investment in Massachusetts.
If you're a volunteer looking for a cleanup event in which to participate, please visit our events page to find an event in your area or contact us for more information.
---