Congratulations to our 2022 Massachusetts Clean Community Award Winners!
The Massachusetts Clean Community Awards recognize volunteers, nonprofit leaders, government leaders, businesses, and municipal partners for exceptional environmental protection and community cleanup efforts. Nominations for the 2023 Massachusetts Clean Community Awards are now open. Submit a nomination today!
We presented our 2022 Clean Community Awards at the Lyman Estate in Waltham on October 20, 2022. It was a pleasure to bring so many caring environmental and community service heroes together for one evening. 
If you were unable to attend our 2022 awards presentation, please view our photo gallery. 
A special thanks to our emcee, WCVB Chief Meteorologist Cindy Fitzgibbon, who filmed a Channel 5 Eye Opener Wake Up Call with attendees.
Our 2022 class of Massachusetts Clean Community Award winners included:
---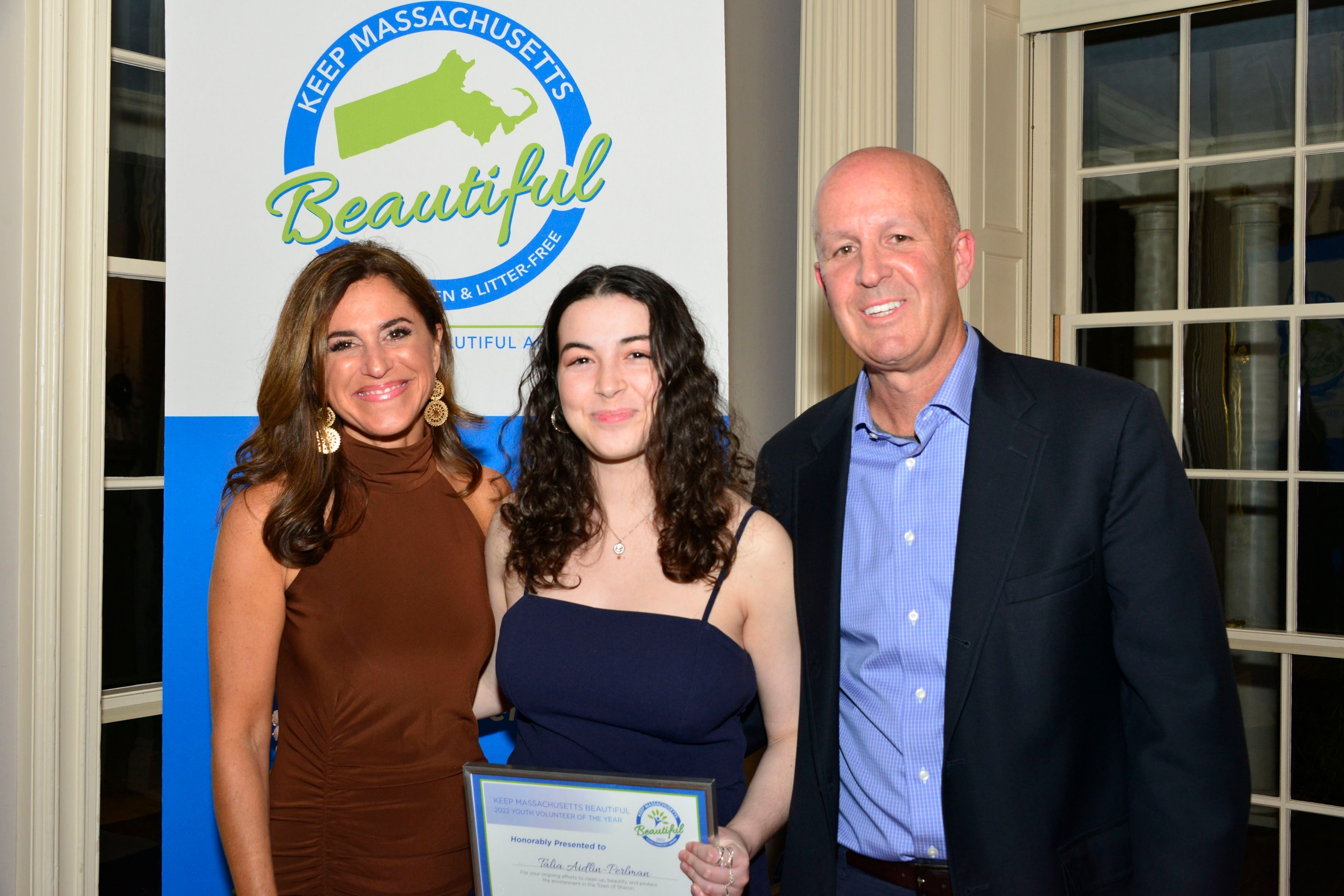 2022 Youth Volunteer of the Year: Talia Aidlin-Perlman of Keep Sharon Beautiful
This award recognizes a youth under the age of 21 for outstanding volunteer work on behalf of a local Keep Massachusetts Beautiful chapter or a related group that focuses on litter prevention & cleanup, waste reduction & recycling, beautification & community greening, or environmental education.
During her sophomore year at Sharon High School, Talia organized the first of four community cleanups she has led in Sharon. In each case, she recruited student volunteers, secured the supplies she would need, and coordinated with school administrators and the local DPW.
During her junior year, she launched an environmental club at Sharon High School. Last spring, she and other club members visited one of Sharon's elementary schools to give presentations to classes about the cleanup to help fuel the younger kids' environmental passions.
Talia provides a great example of what one committed person can accomplish.
Now a senior at Sharon High School, Talia is considering majoring in environmental studies when she attends college next year and hopes to continue visiting schools to help fuel environmentalism among kids.
Congratulations to Talia Aidlin Perlman, our 2022 Youth Volunteer of the Year!
---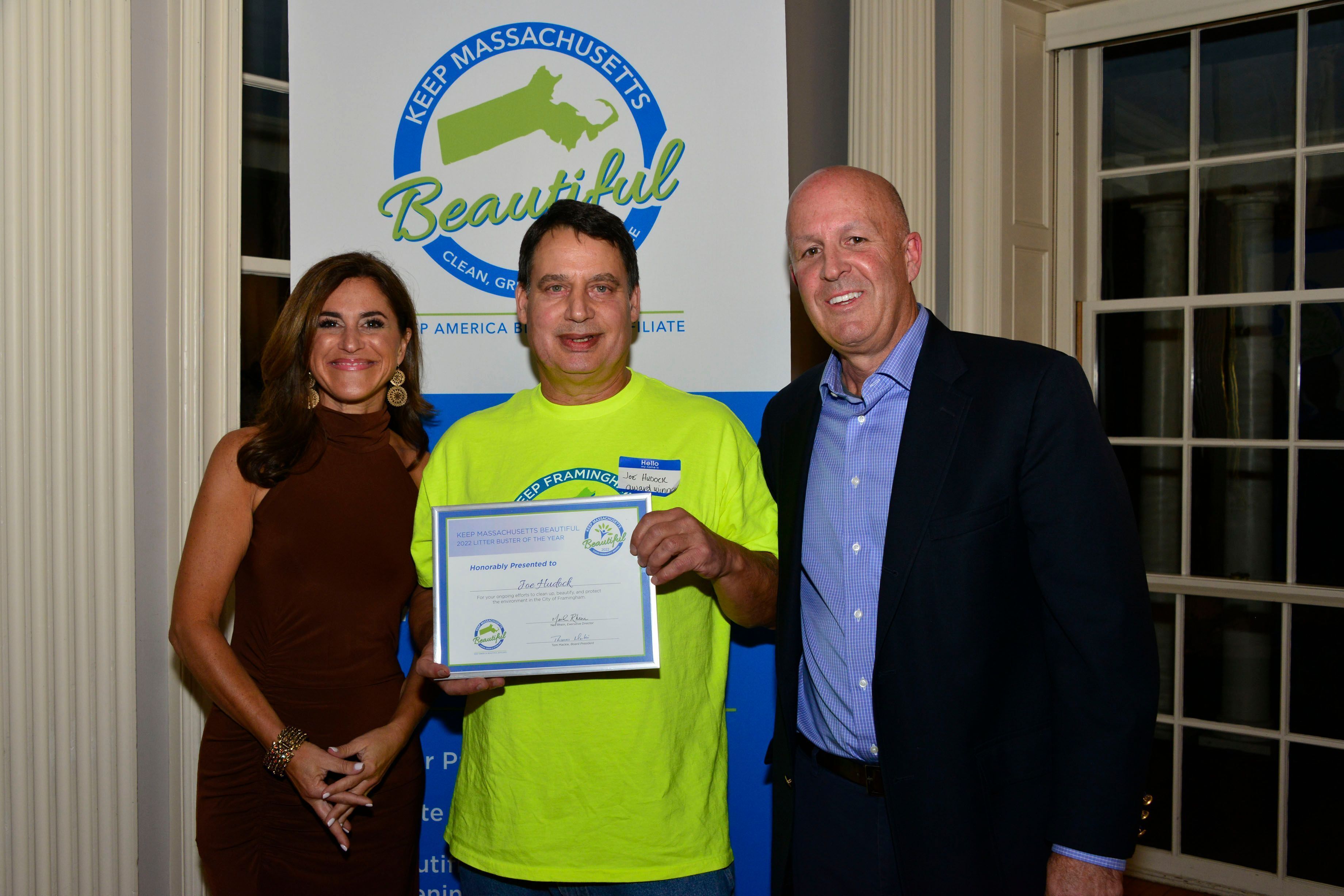 2022 Litter Buster of the Year #1: Joe Hudock of Keep Framingham Beautiful
This award recognizes an individual Massachusetts volunteer for his or her efforts to prevent and/or clean up litter in their community. It's for those unsung heroes who do the dirty work of cleaning up other peoples' messes.
As his nominator wrote, "Joe Hudock is THE inspiration for Keep Framingham Beautiful!" Long before KFB was even an idea, Joe was picking up trash just about every day in several areas of Framingham with a smile on his face and love in his heart. 
Joe maintains a cleanup route along route 126 in Framingham that he patrols almost every day, where he has befriended numerous folks, as he is always smiling and eager to meet new people. While Joe picks up more trash than just about anyone else in KFB, his impact on the community is far greater than simply the trash he finds. Joe's dedication to his route has inspired others to take on routes of their own and he is always willing to talk shop with new members about their approach to regular litter patrol. 
Joe's visibility in the community has had a far-reaching effect. When KFB began working with the Superintendent of Framingham Public Schools about leading cleanups at all schools, Dr. Tremblay was quick to point out how he sees "that guy on 126 every morning on my commute to work." 
There have been a couple of times this year when, for various reasons, Joe was unable to patrol his route for a week or two. In each circumstance, other members of KFB were quick to help cover the gap. It's the least we can do for a guy like Joe who selflessly gives so much to others each and every day. 
Congratulations to Joe Hudock, a 2022 Litter Buster of the Year!
---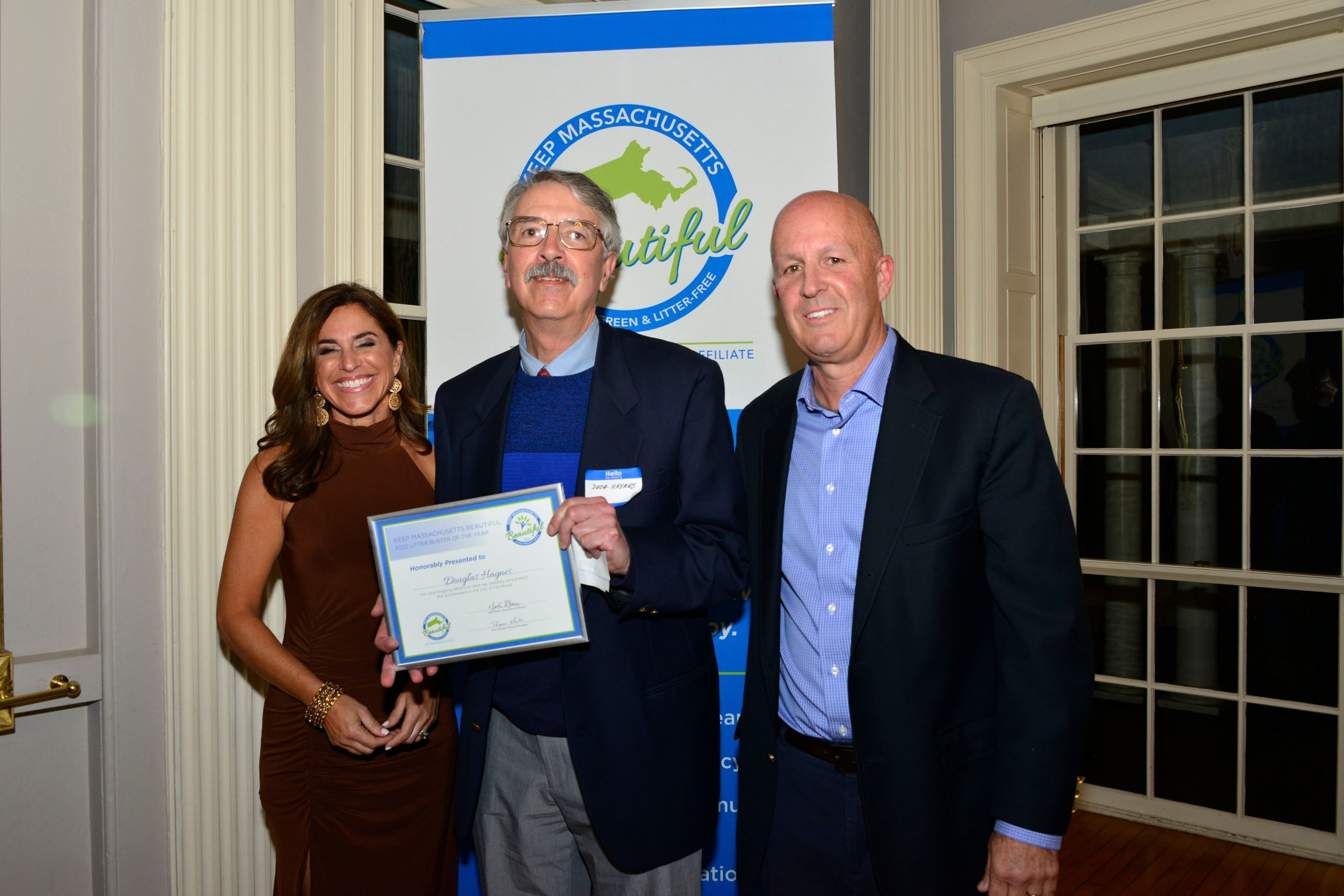 2022 Litter Buster of the Year #2: Doug Haynes of Keep Fitchburg Beautiful 
This award recognizes an individual Massachusetts volunteer for his or her efforts to prevent and/or clean up litter in their community. It's for those unsung heroes who do the dirty work of cleaning up other peoples' messes.
Like most of the people working to keep Massachusetts beautiful, Doug saw a problem and "took action" to address it. Doug Haynes loves to volunteer at Keep Fitchburg Beautiful events and has been volunteering at Fitchburg cleanups for more than 20 years. As one of his nominees wrote: 
"Doug is an amazing litter-busting machine!" Another nominator referred to him as a "litter-busting animal." 
You can always find Doug ready to clean up at any event with his bright red "Fitchburg Civic Clean-Up Corps" T-shirt, which is almost 20 years old! Doug made it a 2022 goal to personally fill 100, 30-gallon yellow trash bags—and he succeeded!
Whether the Keep Fitchburg Beautiful team is cleaning up roadside litter, recovering dumped items by the river, in the woods, and or at random vacant lots or former homeless camps, Doug answers every call for help and shows up with a smile—and his own tools! He is a great partner during cleanups who helps make the time pass quickly through friendly conversation and teamwork. 
Thank you Doug and congratulations on being named a 2022 Litter Buster of the Year!
---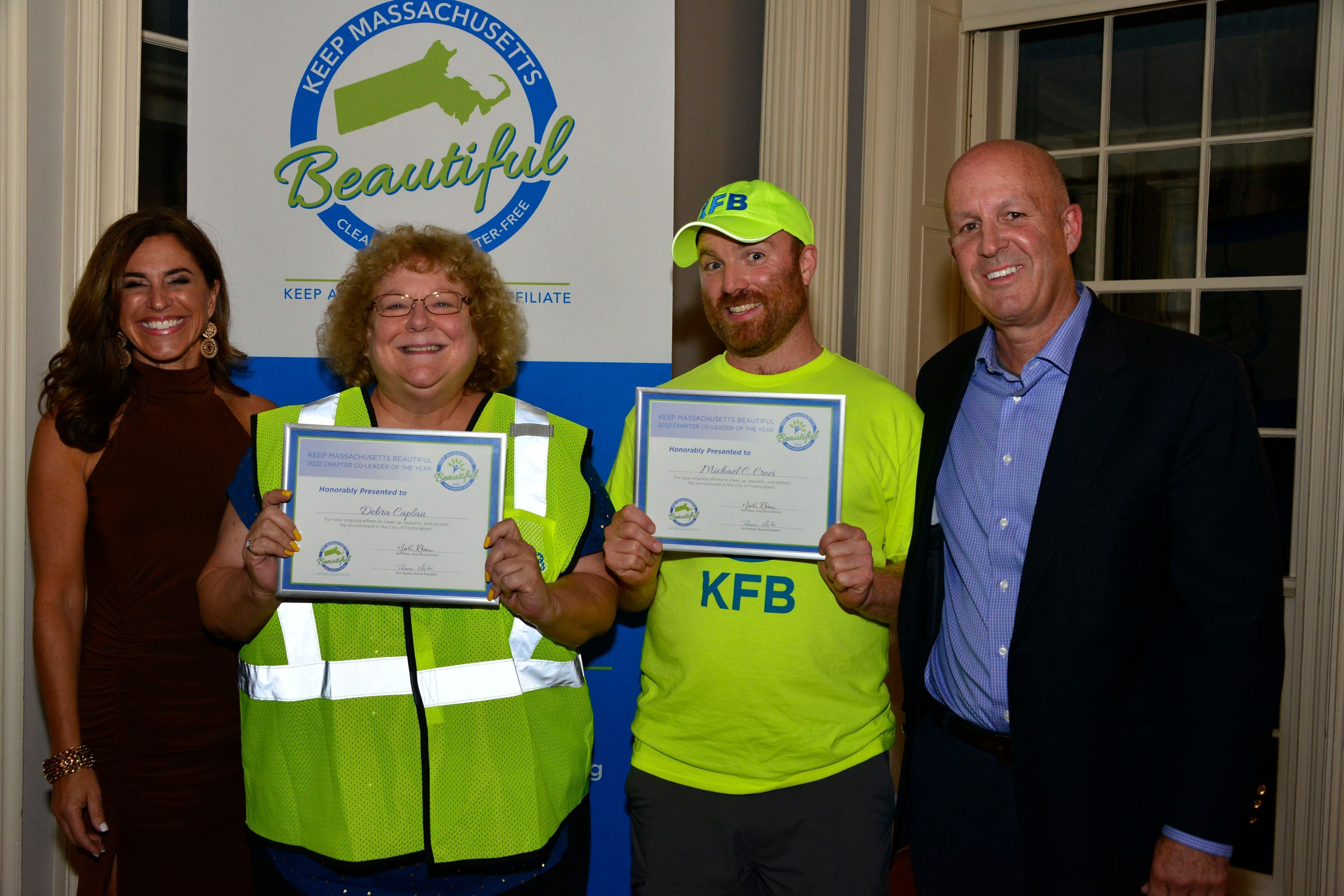 2022 KMB Co-Chapter Leaders of the Year: Mike Croci and Deb Caplan of Keep Framingham Beautiful
This award recognizes an established KMB chapter leader (or leaders) for outstanding achievement. 
Over the past year, Keep Framingham Beautiful (KFB) has made amazing strides toward its vision of a litter-free city, and this progress would not be possible without the leadership, passion, and organizational skills of this dynamic duo. Here are just some of their accomplishments over the past year:
In September 2021, Mike and Deb spearheaded KFB's inclusion in World Cleanup Day and organized cleanups at three highly-littered locations. In October 2021 they organized "KFB Week" with two more large group cleanups. More than 200 volunteers filled 250+ bags of trash in just nine days. In November 2021, they led "Neaten Up November." This event motivated and engaged approximately 100 volunteers all across the city.
In late 2021, Deb and Mike solicited their community for people who might want to help them run their beloved organization. Nearly 20 people signed up and in December 2021 the KFB Steering Committee was formed. 
2022 has been a year of growth for KFB. April brought the 2nd annual Great Framingham Cleanup. 600+ volunteers filled more than 600 bags of trash during this year's cleanup.
Beyond litter cleanups, Deb, Mike, and the KFB team have collaborated with other leaders across the Framingham community. KFB collaborated with the Superintendent of Schools to have all 14 schools in Framingham host cleanups. KFB has also done multiple cleanups with the High School Environmental Awareness Club, including a 91-student effort in May. 
The KFB Business & City team has forged partnerships with the Mayor's Office, City Council, DPW, Parks & Rec, and Health Departments, and local businesses. Many of these businesses have displayed KFB's 300 bright yellow "Please Don't Litter" yard signs that are up all around the city.
While the volunteer work they do is challenging and messy, Mike and Deb do their best to ensure that the KFB community has fun while doing it!  In February 2022, they hosted their first annual awards ceremony via Zoom where they gave out awards to deserving members of the KFB community. In June, they hosted their first annual KFB member appreciation party at Jack's Abbey Brewery. 
Congratulations to Mike Croci and Deb Caplan, our 2002 Co-Chapter Leaders of the Year! 
 
---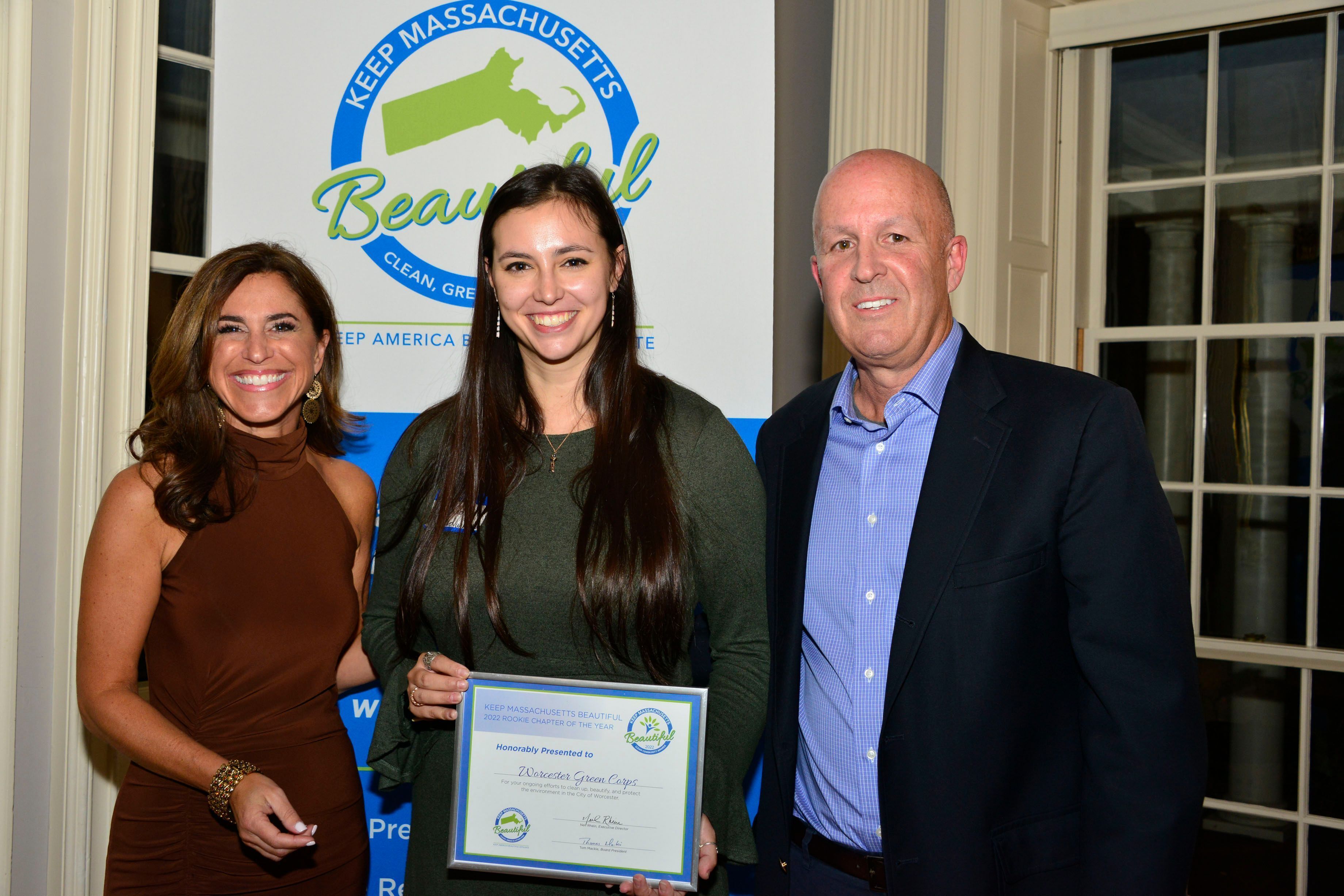 2022 KMB Rookie Chapter of the Year: The Worcester Green Corps
This award recognizes a KMB chapter that launched within the past 12 months for its impact and community improvement achievements. 
The Worcester Green Corps (WGC) is a collaborative effort to keep Worcester's streets and green spaces clean and beautiful on a year-round basis.
Unlike most KMB chapters, which are led by volunteers, the Worcester Green Corps is fortunate to have financial backing from the Worcester Regional Chamber of Commerce, the Worcester Business Development Corporation, the City of Worcester, United Way of Central Massachusetts, and the Worcester Community Action Council. This funding enabled the WGC to hire the amazing Miranda Hotham as their Coordinator.
Since its launch in July 2021, the Worcester Green Corps has accomplished the following results :
•    Cleaned 284 streets, covering 55 miles of roadway
•    Engaged 450 volunteers and removed more than 15,000 pounds of trash—nearly 8 tons!
•    Installed 25 cigarette litter receptacles 
•    Created 4 new pollinator gardens
In addition to the year-round cleanup and beautification efforts, WGC partners with the Worcester Community Action Council through their YouthWorks program to provide employment, as well as opportunities to learn about career readiness, green initiatives, and environmental careers, and to gain experience in leadership, community organizing, and program planning.
The Worcester Green Corps provides a shining example of what can be accomplished when local government and business leaders come together to support local residents and help them improve their community.
Congratulations to the Worcester Green Corps for your amazing success and for being named our 2022 Rookie Chapter of the Year!
---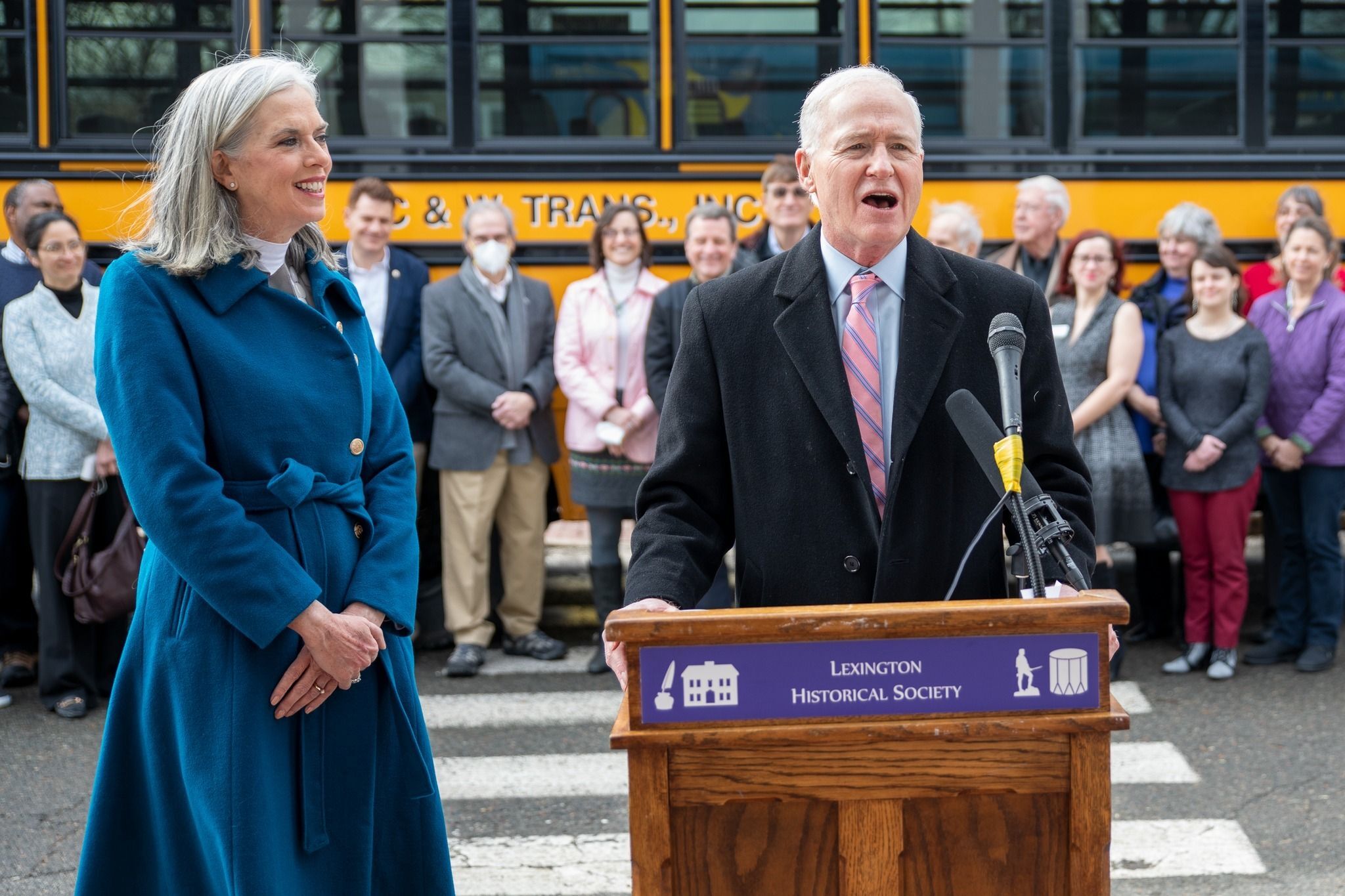 2022 Environmental Legislator of the Year: Senator Michael J. Barrett
This award recognizes a Massachusetts legislator for his or her efforts to protect or enhance the Massachusetts environment. 
Senator Barrett represents the Third Middlesex district, consisting of the city of Waltham and the towns of Bedford, Carlisle, Chelmsford, Concord, Lexington, Lincoln, Sudbury, and Weston. He chairs the Joint Committee on Telecommunications, Utilities, and Energy and is also Vice Chair of the Senate Committee on Global Warming and Climate Change.
Senator Barrett has filed and co-sponsored numerous bills to promote clean energy, reduce waste, and help Massachusetts move toward a zero-waste future. This includes bills that would prohibit the use of Styrofoam takeout food containers, reduce the use of plastic straws, and exempt electric vehicle chargers and zero-emission commercial vehicles from state sales tax. 
In 2022, Senator Barrett's biggest accomplishment was to help steer passage of the state's new Driving Clean Energy and Offshore Wind bill.  
The new law focuses on promoting sustainable, resilient infrastructure that reduces carbon emissions and supports offshore wind power development. Among other changes, the bill:
Establishes an electric vehicle adoption trust fund to provide rebates of up to $5,000 for qualifying zero-emission cars and $4,500 or more for trucks, buses, or vans. It also provides an additional $1,500 rebate for low-income individuals who purchase an electric vehicle and allows rebates on used EVs
Directs the MBTA to operate with 100% zero-emission vehicles by 2030
Relaunches an equity workforce and market development program to provide job training, job placement, and startup opportunities in energy efficiency, clean energy, and clean heating and cooling industries.
Congratulations to Senator Michael J. Barrett, our 2022 Environmental Legislator of the Year! 
---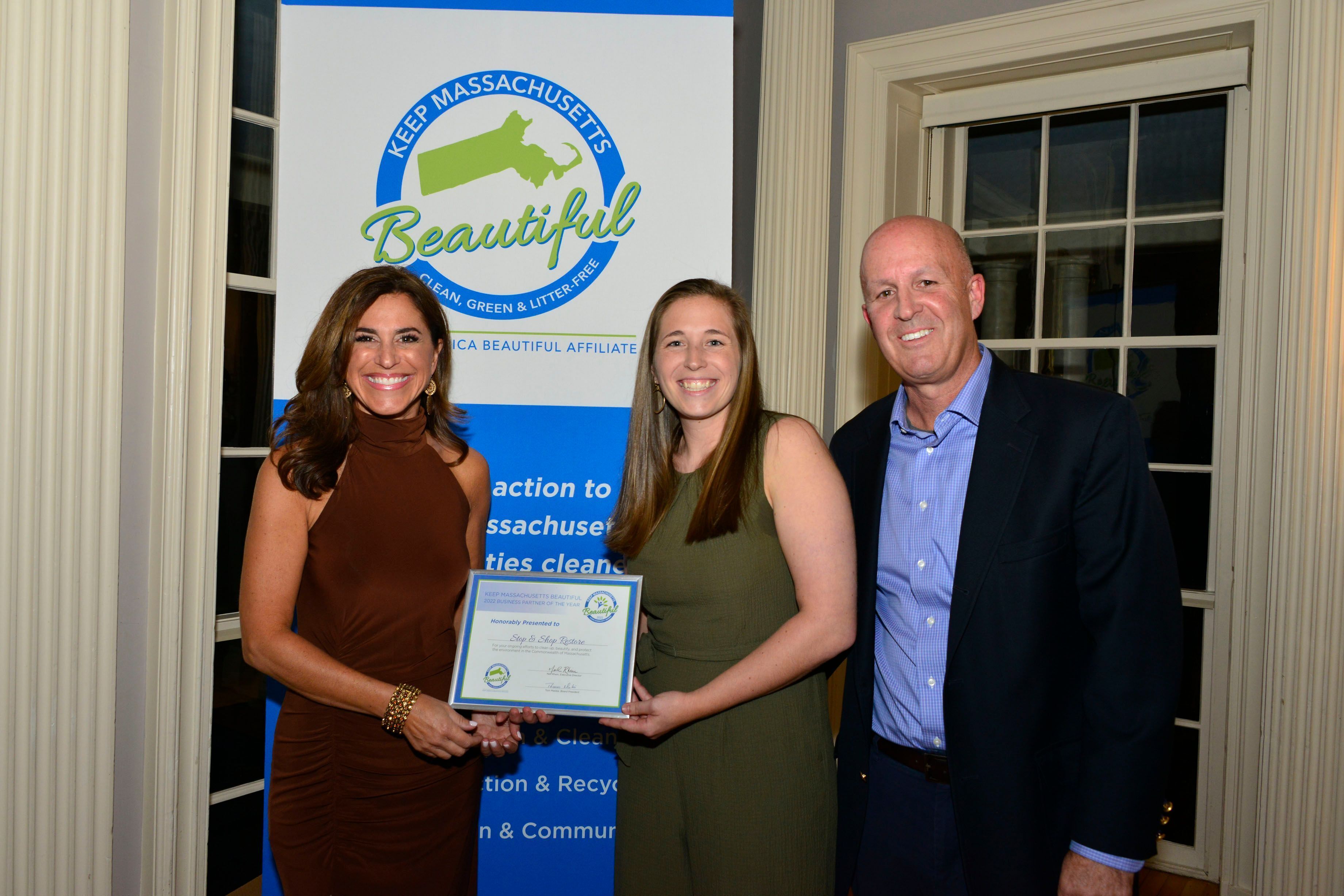 This award recognizes a Massachusetts business for its efforts to collaborate with Keep Massachusetts Beautiful to clean up and beautify a specific community and/or our entire state. 
Stop & Shop stepped up to provide financial support for two Keep Massachusetts Beautiful cleanups over the past year through its Restore program.
First, they made a $4,000 donation to support the Great Boston Cleanup on October 1, 2021, when more than 200 volunteers from several Boston-based companies cleaned up across the city.  In September 2022, Stop & Shop Restore provided $5,000 to support Keep Framingham Beautiful's series of cleanups in September as part of World Cleanup Day.
Stop & Shop's Restore program provides support for environmental protection in many other ways as well.
When you purchase gasoline at Stop & Shop, the Restore program offsets your vehicle emissions up to 30% by calculating the carbon emissions based on the fuel you purchase and investing in certified carbon reduction projects worldwide. To date, the Restore program has offset more than 234,000 metric tons of CO2.
Beyond offsetting tailpipe emissions, Stop and Shop Restore invests directly in our local communities with tree planting and green space development. They have planted 100,000 trees (and counting) across the country in partnership with the Arbor Day Foundation and Tree City USA. 
Locally, with the help of Dorchester-based Speak for Trees, Stop & Shop Restore supported a neighborhood-wide greening project on October 16, 2021 in Mattapan. Residents came together to plant trees in this area of Boston that has a much lower tree canopy than other parts of the city. 
Thank you to Stop & Shop for your support in protecting our environment and congratulations on being named our 2022 Business Partner of the Year! 
 
---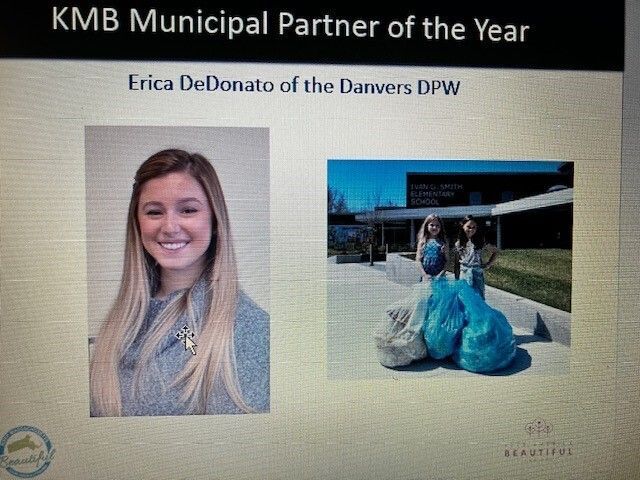 2022 Municipal Partner of the Year: Erica DeDonato of the Danvers Department of Public Works
To run a successful KMB chapter, it's important to build strong relationships with municipal leaders, especially the local Department of Public Works. 
Keep Massachusetts Beautiful partners with its own local chapters, as well as non-affiliated groups across the Commonwealth. KMB supports any town or city that is working to clean up or beautify its community.
To succeed in these efforts, towns and cities need help from their municipal partners. The town of Danvers is fortunate to have a dedicated, passionate partner in Erica DeDonato. Last April, the Danvers DPW partnered with its Rail Trail Committee to host its first Spring Town Wide Cleanup. More than 150 volunteers, ranging in age from 5 to 75, cleaned up 26 sites and collected more than 2,000 pounds of litter!
This success would not have been possible without Erica's organizational and leadership skills, as well as her collaborative attitude with all event participants. In addition to managing all communications and public outreach, Erica partnered with Keep Massachusetts Beautiful to better understand the logistics of organizing a successful community-wide cleanup.  
Last spring, Erica also partnered with Keep Massachusetts Beautiful to apply for—and win—a $5,000 UPS Tree Planting Grant. These funds were used to purchase and plant 18 new trees around Danvers public school buildings.
Congratulations to Erica DeDonato of the Danvers DPW on being named our Municipal Partner of the Year! 
---
Thank you to all the unsung volunteers across our state who do so much to keep Massachusetts beautiful!