2021 Great Boston Cleanup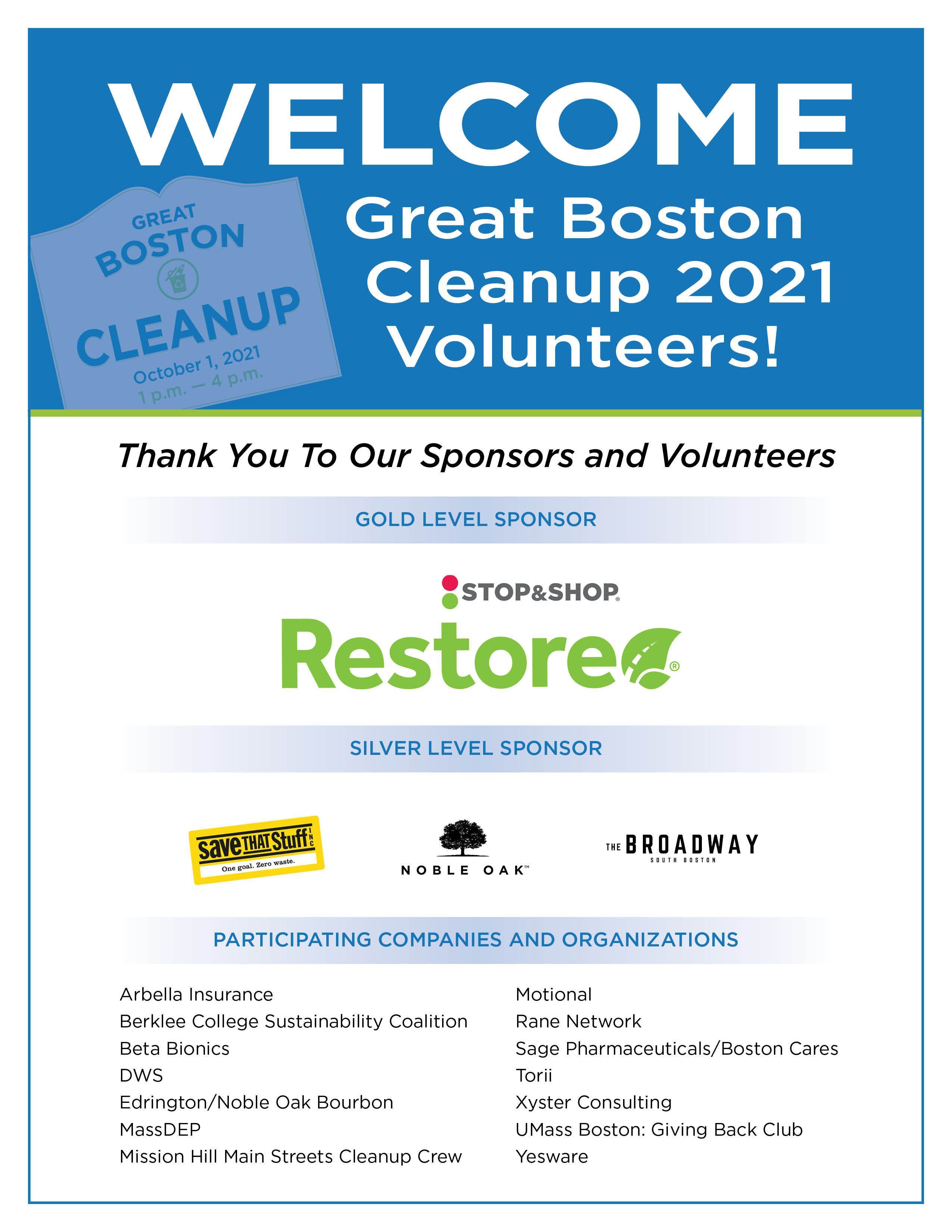 Join with your co-workers or neighbors and Keep Massachusetts Beautiful to give the City of Boston a thorough cleanup! Teams of volunteers from Boston-area companies and other organizations are invited to help us collect and remove the litter and debris that accumulate on city streets and parks over the summer months. Keep Massachusetts Beautiful will provide trash bags, gloves, and lend out trash grabber tools to participating companies.
The deadline for registering was Friday, September 10.
Volunteer teams will be assigned a specific cleanup route in advance. On October 1, each cleanup team will report to its assigned starting location and clean up its assigned route.
Customized tee shirts are available at a cost of $10 each. Orders must be placed by no later than 5 p.m. on Thursday, September 9. Volunteers are also free to wear their own company-branded gear.
Thank you to Stop & Shop Restore for sponsoring this event! Learn about the Restore program at https://stopandshoprestore.com.
At the conclusion of this event, join Keep Massachusetts Beautiful for a post-cleanup happy hour at The Broadway at 732 East Broadway in South Boston. A limited supply of complimentary adult beverages will be available to volunteers, as well as appetizers! Thank you to our sponsor Noble Oak Bourbon!
Please note: There is a registration fee to participate in this event, as follows:
Employers with 15 or fewer volunteers: $250
Employers with 16-30 volunteers: $500
Employers with 31-50 volunteers: $750
Employers with 51+ volunteers: $1,000
Nonprofit teams or individuals: no fee to participate, but donations welcome
The registration fee can be paid online by selecting the donate button in the upper right-hand corner of this page. If you prefer to donate via check, please make your check payable to Keep Massachusetts Beautiful and mail to:
Keep Massachusetts Beautiful
Attn. Andrew Bank, Treasurer
43 Old Stable Drive
Mansfield MA 02048
If you have questions or need us to send you an invoice, see contact information below. Thank you!