Princeton Earth Month Clean Up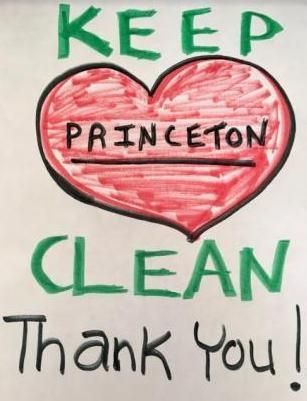 For the third consecutive year, a group of Princeton residents is organizing a town-wide Earth Month cleanup in honor of Earth Day (April 22). Princeton's Environmental Action Committee (EAC) and Open Space Committee (OSC) are spearheading this effort. Cleanup will begin April 1st, or as soon as most of the snow has melted, whichever comes first. Once again, prizes will be given for the best photographs (most fun, most disgusting, and most interesting), and stories (most interesting and most disgusting trash discoveries).
The cleanup effort has three components: roadsides in town; parks and playgrounds; and trails.
1. ROADSIDES
Residents sign up to clean a section or sections of roads by April, on their own schedules. Residents who would like to sign up for a section of road should contact PrincetonEarthMonthCleanup@gmail.com and indicate which sections of which roads they'd like to clean. Interested residents can also call or email one of the organizers listed on the web page (see link below). Residents are asked to dispose of trash individually and to report back when they've completed the work. Organizers would like to hear from everyone who is cleaning up the roads so that everyone can be acknowledged.
If a road is being tended by a group of people, simply list a group name, or names of the people who help out (it is also OK to stay anonymous, but we would like to keep track of the status of the road).
If your road is 'taken' but you wish to help out, simply let us know and we will add your name to the list of people for the road. We will also let you know who else is sharing the road. Note: It is still fair game to help out with road segments that have been taken!
Also, we will be happy to assign a road to residents who are looking to try a different part of town. In past years, we have held a special event to attack unclaimed roads.
Roads may be cleaned at any time, but we would like to complete the sweep from winter by the end of April. When you have completed a road segment, please let us know so we can indicate it on our map (brown=signed up, green = cleaned)!! You can also see which neighbors are working on a road by clicking on the map below.
2. PARKS AND PLAYGROUNDS
Earth Month organizers will be asking specific groups in town to help out. Any resident or group with a particular interest in cleaning up parks or playgrounds, however, should feel free to contact one of the organizers.
Town Common and Goodnow Park - Captain: Claire Golding (cmowbraygolding@gmail.com) and Rick Gardner (Rick.S.Gardner@Gmail.com)
Krashes Field - Captain: Rick Rys (rys@r2controls.com)
Sawyer Field - Captain: Laurie Kraemer (lauriekraemer@hotmail.com) and Karen Rossow (KRossow2@Gmail.com )
Thomas Prince Fields - Captain - Corey Burnham Howard (cburnhamhoward@gmail.com)
3. TRAILS
Trail clearing and cleanup will be done by a variety of volunteers. Please email Rick Gardner (Rick.S.Gardner@Gmail.com) if you are particularly interested in trail work. We have several trail areas looking for 'cleaners', including Four Corners, Calamint Hill, Cobb Brook, TPS Nature Trails, and PLT properties at Russell Corner, Bullock-McElroy, and Gregory-Alexander.
Celebration! We are planning a celebration activity this year if COVID conditions allow. This will be done in conjunction with a planned 'Climate Fest' activity in the fall. Look for more information!!
The health and safety of all volunteers is a priority. View our Safety Guidelines via the link below.
Please Note: Participants in the Earth Month Cleanup do so voluntarily and at their own risk, and assume any and all risk of injury of any kind.