5th Annual Cohasset Earth Day Clean Up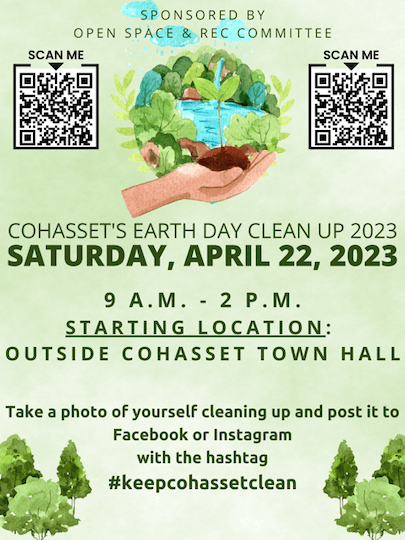 Saturday, April 22 marks the 5th Annual Cohasset Earth Day Clean Up sponsored by the Open Space & Recreation Committee (COSRC). Cohasset residents will rally to remove non-biodegradable, single-use trash and debris that bogs our parks, shorelines, and neighborhoods. Earth Day was founded in 1970 and is an annual grassroots global movement that celebrates the Earth's natural resources and promotes environmental awareness and action.
WHERE/WHEN: To participate in Cohasset's Earth Day Clean Up, stop by the Town Hall at 35 Ripley Rd in Cohasset, MA on Saturday, April 22 between 9:00 am to 2:00 pm to receive your area assignment.
· Bring a trash bag and gloves.
· All trash collected will be deposited in a dumpster located at the town hall.
· In previous years, participants collected tires, six-pack rings, straws, cans, plastic bottles, clothes and more that harm our beautiful community and waterways.
FACEBOOK/INSTAGRAM: In addition, we are asking people to take pictures of themselves picking up trash wherever they may be and post to social media using hashtag #keepcohassetclean
Thank you.