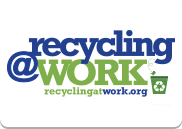 Recycling at Work is a national voluntary initiative challenging businesses, government agencies, schools, hospitals, and other institutions to commit to increase workplace recycling by 10 percent.
By taking the pledge and becoming a Pledge Partner, businesses and organizations can access special recycling bin discounts, free tools, and other resources to help them increase recycling, encourage employee participation, and earn recognition for their actions.
Recycling at Work is led by Keep America Beautiful in partnership with the Alcoa Foundation as part of their Clinton Global Initiative Commitment.
According to the U.S. Environmental Protection Agency (EPA), as much as 45 percent of the 250 million tons of municipal waste generated in 2011 was from commercial and institutional locations such as business and government offices, retail establishments, schools, and hospitals.
Benefits for Employers That Take the Pledge to Recycle More at Work
More than 80 percent of US workers polled said they believe it is important to work for a company or organization that makes the environment a top priority. (National Geographic survey, February 2008)
Employees who feel they can make an impact on social and environmental issues while on the job are twice as satisfied with work as those who don't. (Net Impact Study: "What Workers Want in 2012″)
Eighty-three percent of consumers think companies should try to accomplish their business goals while still trying to improve society and the environment. ("Second Annual Public Opinion Poll on Sustainability" by Do Well, Do Good LLC)
When your business or organization takes the Recycling at Work pledge, you earn immediate recognition as a Pledge Partner and can begin accessing a range of benefits to help you increase recycling in the workplace. Don't wait! Take the pledge today and join the other businesses, government agencies, hospitals, schools, and institutions in our national effort to increase Recycling at Work.
Take the Recycle at Work Pledge
Implement a Recycling at Work Action Plan
Fact Sheet: Effective Bin Placement in the Workplace
Recycling Resources for Massachusetts-based Businesses
---