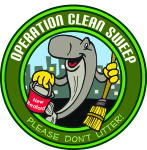 Join with your family, friends, and neighbors and help give the town of New Bedford a thorough spring cleaning!
On the day of the cleanup:
>Sign up/check in at OCS Tent at 8:30 and get your stylin' volunteer T-Shirt
>If you're on a Team, please let us know! Find your Team Captain, that person is really important.
>Have a yummy breakfast provided by our Host.
>While your munching, review the safety notes.
>Remember to fill your personalized re-usable water bottle before you move over to the Logistics Coordinator for your assignment.
>You can then check out your cleanup tools (we'll provide the bags and gloves), find your Team Captain, and be on your merry way!
>After you're done cleaning up, tie bags in a knot and put them at the nearest corner. A support truck will be by to pick them up.
>Be sure to put bags down at 11am, so you can get back in time for Domino's pizza at 11:30!
Please register here: https://form.jotform.com/61117107563146!