Boylston's 2021 Spring Town-Wide Litter Cleanupp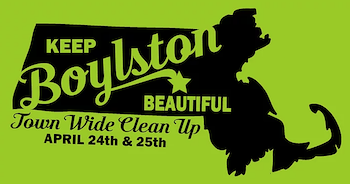 Please join us for the 6th Annual Spring Clean up of Boylston. The clean-up is scheduled for Saturday, April 24th and/or Sunday, April 25th between 8:30 a.m. & 5 p.m. Volunteers can clean up anytime between these days and hours. A trash receptacle will be provided by Pleasant View Waste Removal for the collection of all litter.
Registration is required so we have an accurate count for clean-up supplies and t-shirts. If you have any questions, please email us.