Great Framingham Cleanup 2.0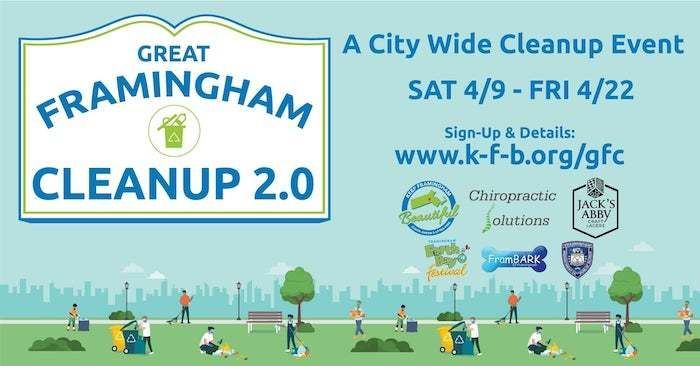 The Keep Framingham Beautiful Steering (KFB) Committee is excited to announce our 2nd annual Great Framingham Cleanup.
Members of Keep Framingham Beautiful (KFB) invite the entire Framingham community to participate in the Great Framingham Cleanup 2.0. This distributed event will be another huge step towards our vision of a litter free city. We will mostly be encouraging folks to do small clean ups on their own or in self organized groups, but we will also host 4 group clean ups.
OUR GOAL: 500+ folks picking up litter across the two weeks and posting pictures of their progress to our Facebook group.
We will give out superlatives for these categories so be ready to post fun & creative pictures!
* Most creative post
* Funniest picture
* Strangest object found
* Best before and after pictures
* Biggest haul
* Best Group & Best Family efforts
* And MANY MORE that we make up based on your fun & creative posts!
This event is co-sponsored by Keep Framingham Beautiful, Framingham Earth Day Festival, Jack's Abby Craft Lagers, Chiropractic Solutions, FramBARK and the Framingham DPW.
If you have any questions, feel free to send us an email: KeepFraminghamBeautiful@gmail.com
Our 2 week cleanup with culminate in the 10th annual Framingham Earth Day Festival which will be held on Saturday, April 23rd from 11am to 3pm on the Framingham Centre Common. For full details on the festival please visit their website - www.framinghamearthday.org/