Harwich's 7th Annual Tour de Trash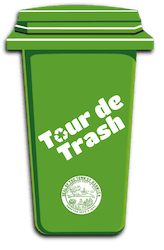 Join us to help clean up Harwich on April 30th!
Gather your friends, family, co-workers, and neighbors to register for Harwich's Annual Tour de Trash volunteer event! Help us clean up Harwich by ridding our roadsides of litter. Tour de Trash is a joint effort between the Town Conservation Department and the Harwich Conservation Trust, with assistance and support from Americorps Cape Cod, the Police, Fire, and Highway Departments.
Volunteers will begin at the Harwich Community Center to sign in and gather their supplies. They will then spread out across Harwich to clean their assigned routes, returning with bags of trash and recycling.
To learn more and choose your preferred route, please register via the link below. More routes will be made available as high priority routes are filled.