Fitchburg Ward 4&5 City Sponsored Cleanup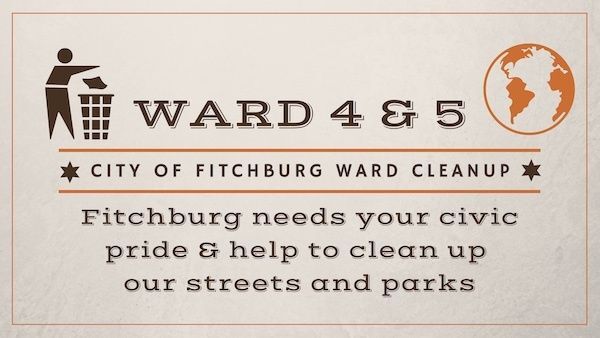 PLEASE NOTE WE ARE STILL AWAITING CITY CONFIRMATION FOR THIS EVENT
We will update this event once confirmed. Please email Keep Fitchburg Beautiful to be added to email updates list.
Keep Fitchburg Beautiful Volunteers will be supporting the City during its officially sponsored Ward Cleanup days. All are welcome to join and help. Lite refreshments will be provided for breakfast and lunch at the transfer site. The Health Department will supply yellow trash bags, gloves, and masks at each event.
Salvation Army Canteen Truck on site – Light Breakfast & Lunch
Street Sweepers out – sweep sand onto the street for pickup – not in large piles.
TVs and Monitors are accepted for only a $10 fee!
Dumpsters will be available at each location for bulk items and non-residential trash found throughout the ward.
DPW staff will be available to aid in picking up large items that volunteers are unable to bring to the transfer sites, as well as curbside trash bags from large neighborhood clean-ups.
City personnel will be available at each transfer site to assist with the disposal.
DPW Street Sweepers will also be out in the wards during each ward cleanup.
Please sweep sidewalk debris onto the street, however, kindly refrain from creating piles!