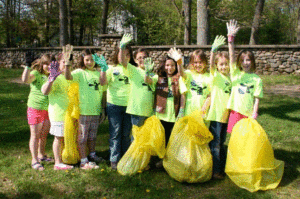 With Earth Day (April 22) fast approaching, what will you do to protect Mother Earth? One way to make an impact is to join one of the many spring litter cleanups taking place in Massachusetts.
We are currently coordinating with nearly 100 communities across the state as part of the 2017 Great Massachusetts Litter Cleanup . For an up-to-date list of events coming up in April, go to our events calendar.
If your community is NOT listed, it's not too late to organize a spring cleanup. Contact us and we will help you get organized.
If your town IS hosting a litter cleanup event, you'll want to make sure you get as much publicity for your event as possible. This will help raise awareness about the litter problem and provide positive reinforcement to your volunteers. Here are some suggestions
• Send photos with captions to your local newspaper
• Share photos and videos on Facebook, Instagram, and Twitter. Be sure to tag Keep Massachusetts Beautiful!
• Use the hashtags #LitterFreeMass and #DoBeautifulThings
• Go live on Facebook to show the great work volunteers are doing in your community
• Combine all the trash you collect into one huge pile and share that photo to demonstrate your impact
Governor Charlie Baker recently declared April "Keep Massachusetts Beautiful Month." Learn how you can help out by signing up for the Great Massachusetts Litter Cleanup.