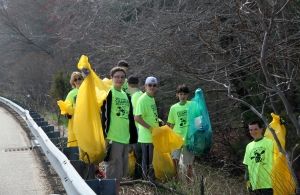 If you're fed up with seeing trash and litter along your town's roadways, sidewalks, and other public spaces, make 2020 the year you DO SOMETHING ABOUT IT.
Join the Keep Massachusetts Beautiful network of local chapters and start taking an organized approach to cleaning up and beautifying your community. Together, our 25 local chapters are mobilizing volunteers, educating residents, and engaging the local business community to take action.
Our Keep Mansfield Beautiful chapter provides an excellent example of what a group of committed citizens, with help from local municipal leaders and businesses, can accomplish. Over the past 12 years, Keep Mansfield Beautiful has delivered more than $400,000 worth of volunteer labor, grants, and donations to the town of Mansfield. Tangible improvements include:
A significant reduction in litter. Each spring, 500+ volunteers participate in the Great Mansfield Cleanup each spring. Approximately 40 tons of trash, litter, and debris have been removed. Hundreds of school children have participated and learned about the importance of protecting their local environment. Today, Mansfield's public works department no longer receives complaints about litter.
Improved recycling. Keep Mansfield Beautiful has provided education and equipment to help the Mansfield school department increase its recycling rate dramatically. Through grants secured from Keep America Beautiful, indoor and outdoor recycling bins were provided for use in Mansfield's public buildings, including all of its schools. Students have also learned how to reduce recycling contamination.
A more beautiful town. Keep Mansfield Beautiful has beautified the appearance of Mansfield's downtown business district. They have secured business donations to complete major landscaping projects and purchase trash barrels and park benches. The annual Downtown Flower Barrel program lines Mansfield's shopping district with 100+ flower barrels, helping to make the area a more inviting place for shoppers and diners.
All of these improvements have been accomplished at virtually zero cost to the town of Mansfield. So, the question for you is, why not reap these kinds of benefits by launching a local Keep Massachusetts Beautiful chapter in your own community?
Keep Massachusetts Beautiful provides hands-on support to help local chapters get organized and operate effectively, including:
Logistical and planning support for local Great Massachusetts Cleanup events
Creation of a chapter logo and a dedicated page on the Keep Massachusetts Beautiful website 
Creation and delivery of a customized chapter e-newsletter
Creation and ongoing support for each chapter's social media presence
Assistance with creating and executing fundraising campaigns, including online donations 
Assistance with public relations 
Liability insurance coverage
KMB executive director attendance at one local chapter meeting each year
Eligibility for one of five annual Plant Something Bee-eautiful grants
Discounted admission to Keep Massachusetts Beautiful's annual awards gala and other events
If you'd like to learn more about the benefits of launching a local Keep Massachusetts Beautiful chapter, contact us to schedule a phone or in-person consultation.