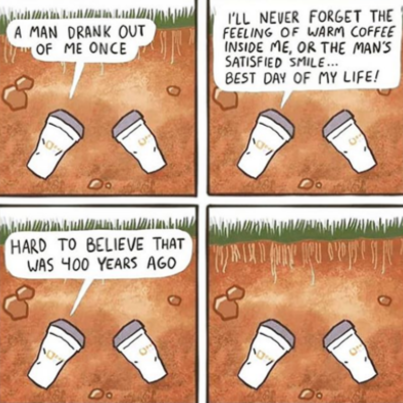 Valentine's Day has passed, but it's not too late to reexamine your relationship with single-use plastics.
In 2018, the United Nations Environment Programme (UNEP) produced a video to draw attention to the problem of plastic pollution. In the It's Not Me, It's You video, Sandra decides it's finally time to break-up with single-use plastic products such as disposable cutlery, take-out containers, and shopping bags. (watch it here).
Sure, these items are convenient and cheap, but can't we do better? Is it really "true love" if you only use an item once? We don't know about you, but we are looking for a long-term relationship. Something sustainable (pun intended). 
When you start looking around, you may realize these single-use items are all around you. It seems like almost everything is made out of plastic - from your toothpaste tube to the straw that came in your favorite cocktail. It's easy to get overwhelmed. Where do you even start?
This is understandable. As the song goes, breaking up is hard to do. It can be uncomfortable. You might even find yourself rebounding at times. Rest assured that you don't have to do it all at once and you don't need to go out and buy expensive reusable items. Even small changes can have a big impact. John F. Kennedy once said, "One person can make a difference, and everyone should try."

Here are 5 tips to help you break up with single-use plastic:
Ask can I reuse or recycle it? If you are wondering where to start, look at the disposable items you use on a regular basis that are not recyclable or reusable. Not sure which plastics are recyclable? If it's a bottle, jug, jar, or tub - you can recycle it! Still not sure? Check the Recyclopedia.
Ask yourself if you really need it. Getting food delivered to your office or house? You likely have reusable forks, spoons, and knives on hand. Most restaurants are happy to skip the disposable cutlery if you just ask. Thanks to the Habits of Waste  #CutOutCutlery campaign, delivery services like Uber Eats are getting on board and providing plastic cutlery for take-out orders by request only. 
Bring Your Own (BYO). When you're out and about, bring your own reusable alternatives, such as a water bottle or coffee mug. Refill your coffee in your own cup at the cafe, pack some bamboo utensils in your bag for lunch on the go, and grab those reusable bags for the trip to the grocery store. You can also include a collapsible reusable straw in your "to-go bag." 
Bulk Up. Some of the best things come with no packaging at all! If you haven't checked out the bulk section at your local grocery store yet, just bring your own container and fill it with olive oil, coffee beans, peanut butter, granola, dried beans, grains, fruit or even kombucha on tap! Check out this zero waste grocery guide.
Switch to Sustainable Food Storage Swaps. Swapping zip-lock baggies and cling wrap for reusable options will save money and reduce your plastic waste. Reusable food storage bags come in all different sizes, colors, patterns, and materials so you can really make a statement when you pack your lunch. Beeswax wrap, bowl covers, silicon lids, or even a dish towel can be used to replace cling wrap. 
Getting over the convenience of single-use plastic gets easier with time. The keys to success are to start small, be aware of new opportunities to reduce waste, and continually seek to reduce your impact on the planet.
A hat tip to RecycleSmartMA for most of the information in this post.