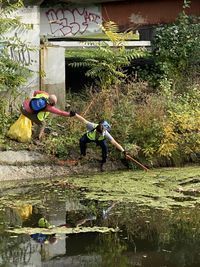 The recent spell of spectacularly gorgeous November weather here in Massachusetts provided a welcome mood boost to many people, especially after days of election-related drama and stress. Looking ahead, however, we face the sobering fact that the COVID-19 pandemic is worsening. With the Governor Baker's recent tightening of COVID-19 restrictions, our options for recreation and social connection will be even more limited than usual in the coming months.
So, what can you do to ensure you get some fresh air, exposure to beneficial sunlight, and exercise, while also maintaining your mental wellbeing this winter and beyond? The answer may surprise you—join the growing number of people who pick up litter as proud members of the Massachusetts Litter Cleanup Crew! 
The Massachusetts Litter Cleanup Crew encourages people to take action to build a cleaner, greener, litter-free Massachusetts. The program enables you to be an environmental hero in your community by incorporating litter cleanups into your daily walks. 
Whether you take walks by yourself, with your dog, or with your family and friends, it's easy to clean up as you go. To make the task easy and safe for you, Keep Massachusetts Beautiful will ship you a free Massachusetts Litter Cleanup Crew kit that includes:
A Litter Cleanup tool
An official Mass Litter Cleanup Crew facemask
An official Mass Litter Cleanup Crew safety tee-shirt
An official Mass Litter Cleanup Crew reusable trash bag
A pair of high-quality gloves
A Keep Massachusetts Beautiful car or refrigerator magnet

Volunteering to keep your street or neighborhood litter-free all year long can be extremely gratifying. I can speak from years of personal experience when I say that "litter picking" is good for the mind, body, and soul. 
From a physical standpoint, you will benefit from getting some fresh air, walking, and bending. But for me, it's the mental aspect that is even more gratifying. This has been especially true since the start of the COVID-19 pandemic. 
During the first phase of the COVID-19 pandemic last spring, I started venturing out multiple times a week to clean up roadsides and hiking trails all around my hometown of Mansfield. My family members probably thought I was becoming a bit obsessed. But I can assure you that getting out and accomplishing something positive has helped me maintain my mental health and a positive outlook. 
There is a sense of accomplishment that comes from cleaning up an area that has been littered by other, less-than-thoughtful people. And unlike much of the work that many people do in front of a computer screen these days, cleaning up your community yields tangible results. There is the before picture and the after picture. As a bonus, your cleanup efforts help raise awareness about the litter problem in your community and may even persuade others to follow your example.
The fall, winter, and early spring are actually the best times of year to clean up litter, assuming there isn't too much snow. With the vegetation gone, litter is more visible, easier to access, and you don't have to worry about poison ivy. And once you get moving, you will quickly warm up.
So, if you're looking for a reason to get outside this winter, clear your mind, and improve your community, join the Massachusetts Litter Cleanup Crew and order your free Litter Cleanup Kit.