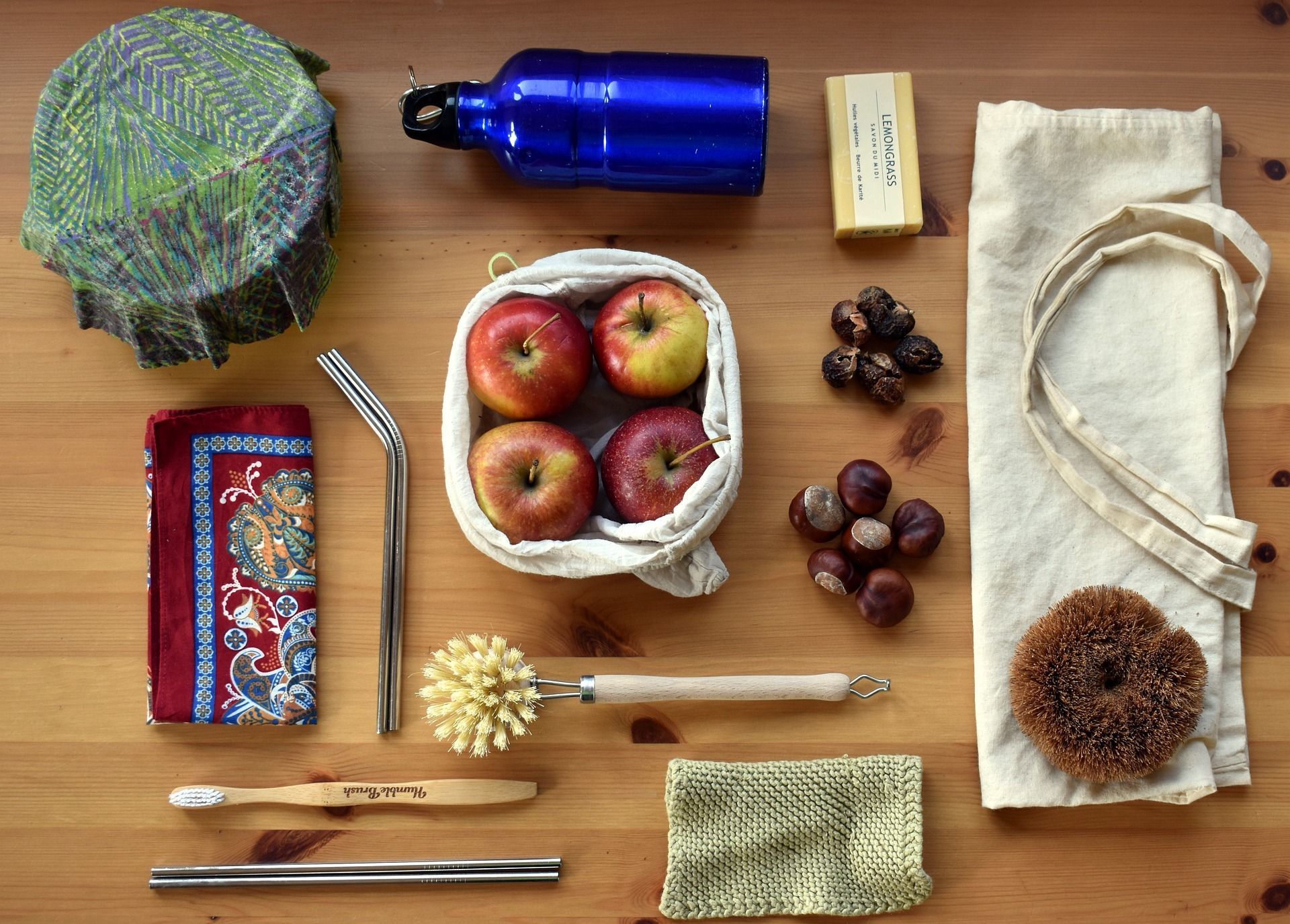 The first month of 2021 is officially over, and while it certainly was a bumpy start to the new year, things do seem to be settling down a bit. I hope you've started to incorporate some of the products from Part 1 into your lifestyle and are well on your way to becoming plastic-free. In Part 2, we're featuring 11 more products to consider swapping out to reduce waste and ditch plastic. If you missed Part 1, you can find it here.
Before we dive into the products themselves, I want to talk about one of the best things we can all do to be more eco-friendly, which is to shop local! In times past, people bought most of what they needed at small businesses located within their communities. When you buy from local businesses, you're investing directly in the community where you live, getting the freshest products, eliminating the shipping burden on the environment, and meeting your neighbors. What's better than that?
Shopping at co-ops and farmers markets in your community is a great way to create your own farm-to-table lifestyle at home and eat fresher food. Getting involved with a CSA (community-supported agriculture) is another way to get fresh produce straight from the ground to your table while supporting your local farms. Check out this map of CSAs in Massachusetts and consider joining one today. 
Being mindful of packaging is also an important part of reducing waste. Many of the companies that offer eco-friendly products also use eco-friendly packaging. That's great, because most supermarket products do not. To combat that, shop small businesses that allow you to make a one-time purchase of a product that you can then bring back and get refilled, completely eliminating your waste. You can do this with olive oils and vinegars, as well as many household cleaning products. 
Litterless's Zero Waste Grocery Guide features a variety of stores in Massachusetts that offer a refilling option to get you started. And, of course, when shopping local, whether it's co-ops, farmers markets, or any small business, don't forget to bring your reusable shopping bags!
Look at you, well on your way to a plastic-free, zero-waste lifestyle! Now let's look at some more product swaps.
(Note: All of the products listed here, and many other zero waste and sustainable items, can be found at the websites shown at the end of the blog.)
11. Bamboo paper towels and toilet paper
We throw away a lot of paper towels—13 billion pounds of them per year to be exact, according to oceanconservancy.org, and they're not recyclable because they're almost always dirty when we're done with them. As for toilet paper, America uses the most toilet paper of any other country. Consider bamboo. Bamboo grows quickly, doesn't require pesticides, and uses way less water than the trees paper towels and toilet paper are made from. Bamboo paper towels are reusable and can be washed up to 100 times. Bamboo toilet paper breaks down in water quickly and easily, making it a better alternative.
12. Beeswax wrap
This eco-friendly and sustainable wrap takes the place of plastic wrap. Use it as a cover for containers or wrap it directly around food. It's washable, reusable, and compostable.
13. Reusable sandwich bags
Stop throwing away single use plastic bags and try the reusable, washable options. Made from silicone or cloth, these bags are a great way to green up your sandwich routine, along with the lettuce!  
14. Dishwashing soap blocks 
Stop buying dishwashing soap in plastic containers, even if you're only buying it once and refilling it, because the refillable pouches are mostly made with plastic. Instead, try dishwashing soap blocks. They're zero waste, come in compostable packaging, and sit on or in bamboo or ceramic dishes or pods. They look adorable on your sink, and they're as tough on grease and grime as the plastic alternative. 
15. Dishwasher pods or tablets
Dishwasher pods, like the laundry pods mentioned in Part 1, are fully dissolvable, come in compostable packaging, and are made from plant enzymes. They don't contain plastics or harmful chemicals, and they get great reviews. Check them out at dropps.com.
16. Eco-friendly sponges and bamboo brushes
While you're tricking out your kitchen, don't forget to swap out those nonrecyclable sponges made with unhealthy chemicals for planet-healthy ones. There is no shortage of choices. You'll find sponges made from natural vegetable cellulose, coconut fibers, plant fibers, and bamboo. And don't forget the brushes! Bamboo tops the list for brushes because of its compostability. 
17. Mason jars for everything!
Let's be honest—mason jars are everything! They come in all different shapes and sizes, you can create your own labels for them, they're incredibly multipurpose, and they create a look of simplistic organization on your shelves and counters. You can't go wrong with a large collection of mason jars.
18. Glass storage containers with bamboo lids
Swap out all of your plastic storage containers with glass ones. They're environmentally friendly, safer for storing, reheating, refrigerating, and freezing food, and you can use the bamboo lids as mini cutting boards when they're not in use. Bonus: the bamboo lids are compostable!
19. Reusable food covers
Get rid of plastic wrap and plastic lids by investing in some reusable, stretchy silicon lids for all your containers. They're made from natural silica sand, are dishwasher safe, and can be used over and over again.
20. Straws
If you love straws and can't live without them, it's time to invest in stainless steel or bamboo reusable ones. Plastic straws are difficult to recycle because of their weight—they're so light, they fall out of recycling sorters and end up in our oceans (by the billions every year!) where they break down into microplastic and kill marine life. So, save our oceans and marine life by ditching plastic and investing in eco-friendly straws.
21. Bamboo cotton swabs and reusable makeup remover pads
For the bathroom: Switch out your plastic swabs that end up in landfills with compostable swabs. As previously mentioned, bamboo grows quickly, doesn't require pesticides, and needs much less water to grow than other types of trees. And instead of throwing away makeup remover pads every day, try bamboo reusable makeup remover pads that are washer-friendly and can be used over and over again.
Well, there you have it, 11 more ways to reduce waste, ditch plastic, and be more eco-friendly! While getting rid of plastic has honestly never been easier, attaining a zero-waste lifestyle is a journey. So, take things one step at a time and don't overwhelm yourself. Every change you make, no matter how big or small, makes our planet healthier. Good job! 
p.s., If you missed it, read part 1 of this two-part series for 10 more eco-friendly tips. You can also read more tips on how to achieve a zero waste lifestyle.
---
The Neighboring Food Co-Op Association