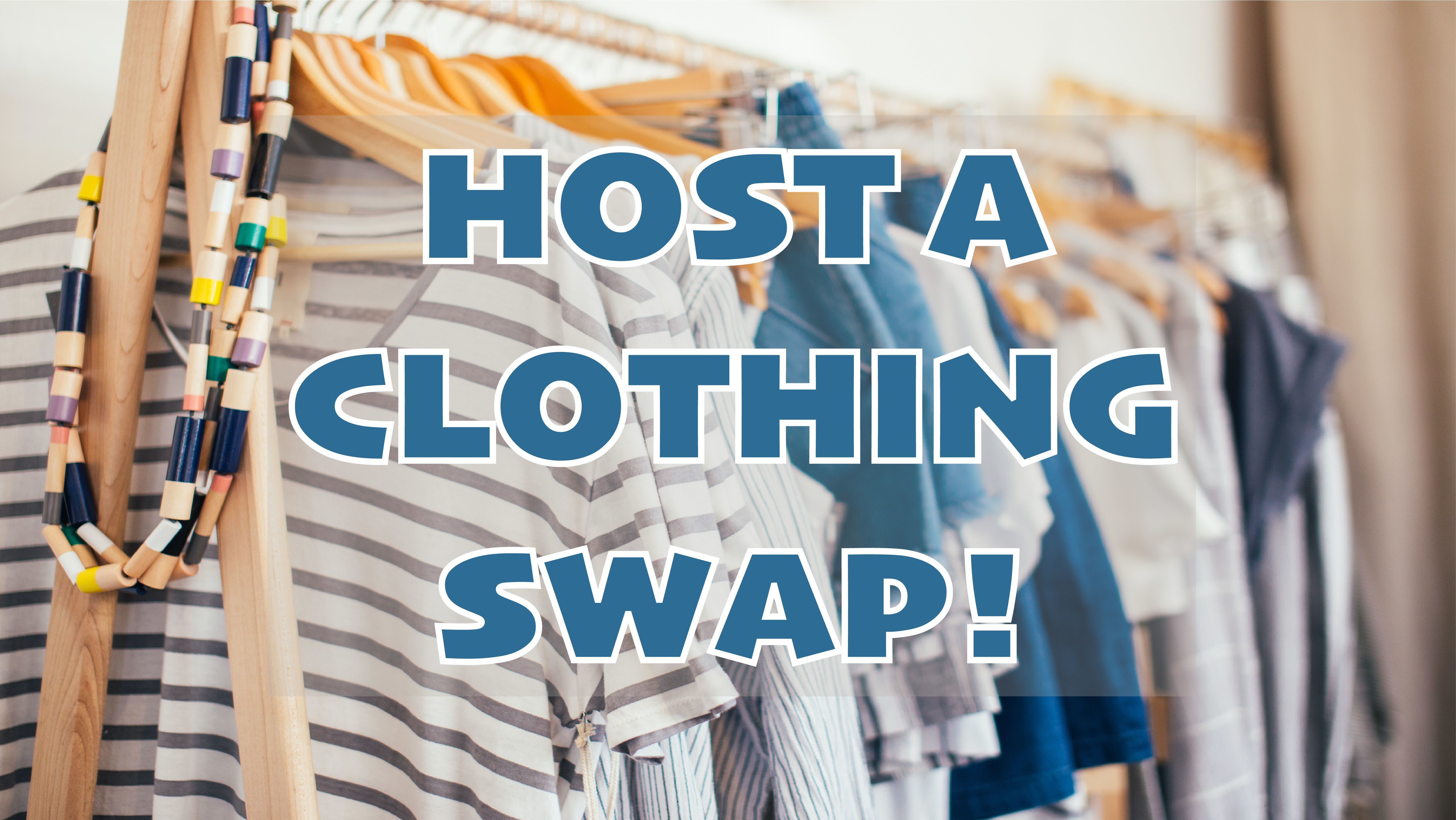 Here we are already in the middle of September. Schools are back in session, people are feeling the urge to get organized, and CVS is probably already selling Halloween candy. Too soon, CVS! Some of us are looking forward to crisper air and colorful trees, while others are dreading the inevitable cold days ahead. Whichever way you are feeling, I have something you can look forward to that will make your fall season fun—clothing swaps!
What is a clothing swap? It's the perfect way to give your wardrobe an upgrade without involving your bank account. Clothing swaps are get-togethers where you bring gently used clothes and accessories you no longer want and swap them for clothes and accessories that other people bring that they no longer want. No money exchanged! Not only is it good for your bank account, it's an act of environmentalism!
Textile waste is a major environmental issue. It's estimated that the average American discards about 80 pounds of clothing each year—80 pounds! Here in Massachusetts, textiles comprise 6% of what we send to landfills and waste-to-energy incinerators. That is not sustainable. And not only do we discard a bunch of clothing, we replace it with new clothing, which is also bad for the environment. 
The fashion industry is the second largest polluter in the world. It consumes a huge amount of water and is responsible for approximately 10% of global carbon emissions, according to an article by the BBC. 
"Fast fashion" is even worse. Clothing made in other countries for US consumption comes with a terrible cost. Dyes, chemicals, and microplastics are being dumped directly into waterways. Workers are very often mistreated—paid low wages, made to work long hours in unsafe conditions, and exposed to dangerous chemicals—all so we can wear the latest fashion trends. Think about that next time you're shopping for a new pair of jeans.  
Clothing swaps are the solution. The effects of a clothing swap are all positive. And it's a way for people to help one another simply by offering pieces they no longer want. Maybe you know someone who just accepted a new position and needs to upgrade their wardrobe. Or maybe you have a friend who just joined a gym and needs some workout clothes. Or perhaps your coworker just had a baby and needs some different sized clothes for a little while. Or maybe your friend is just feeling unhappy with her current wardrobe and a few new pieces are all she needs to feel confident again. 
So, how do you host a clothing swap? It's easy! Here are a few things to think about when hosting: 
Consider the clothing sizes of the friends you invite. You want to make sure there will be clothes available in the sizes of everyone you invite. 
Decide how many pieces each person should bring from each category. For example, you could limit the clothing items to 15 and accessories to 5. This will also be the limit that each person can take home (i.e., no one can leave with more than 15 clothing items or 5 accessories)
Specify in your invitation that the items brought should be gently used and not in need of repair. You could also specify if you want seasonal items only or if everything goes.
Put some thought into how you'll want to display the items. Clothing racks and long tables work well. A few jewelry stands could be helpful too. Let each guest set up their own items with the racks and tables you provide.
You'll definitely need a private space where people can try items on. Access to a bathroom or a few partitions placed in the corners of the room would work. You can also suggest in the invitation that people wear form-fitting tank tops and biker shorts under their outfits so they'll be less exposed when trying on clothes.
Those are some basic rules when hosting a clothing swap. But it's always a good idea to do some additional research and get more information before you jump in. And who better to advise you than Martha Stewart? You can find her article on how to host a successful clothing swap here. Modern Frugality also has a helpful clothing swap article here. So let's help each other instead of hurting the environment. Start swapping, and happy new fall wardrobe!
p.s. If you don't have the time to organize a swap, be sure to donate your used textiles and clothes. You can place items in a donation bin or if you live in a community that offers curbside pickup, simply place your items in the bags provided and put them out with your weekly recycling.