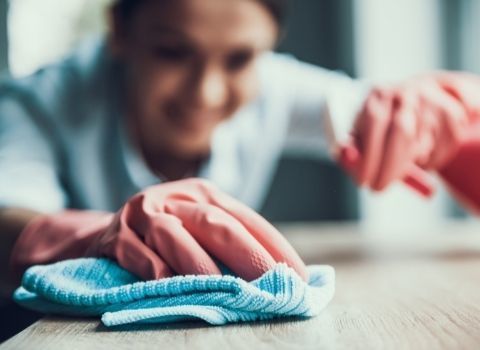 Reduce the use of harmful chemicals out of your home the next time you give it a good cleaning. You don't need caustic or corrosive cleaners to get your counters to sparkle. Be good to Mother Nature by using natural cleaners you probably already have sitting around! Let's look at some eco-friendly tips for cleaning your house.
Go All-Purpose
You can't clean every surface in your house with white vinegar—and maybe you want something that smells more neutral, anyway. When you shop for cleaning supplies, look for all-purpose cleaners and sprays with natural ingredients. (A good rule of thumb is to check the ingredient list and confirm that you can pronounce all those words.) Use all-purpose cleaners as much as possible to avoid buying a bunch of separate cleaning chemicals.
Freshen the Air Naturally
Got a funky smell wafting around? Skip the air fresheners, and crack a window open for some real fresh air. Air freshener plug-ins and sprays are chock-full of unpronounceable chemicals. Plus, many popular all-purpose sprays have some kind of synthetic scent. To go easy on the environment, use fragrance-free cleaners when you can.
Use DIY Cleaners
You've probably heard of folks making their own cleaning solutions with things like dish soap and lemon juice—things you probably already have around the house. Reduce your carbon footprint by skipping that trip to the store for cleaning supplies. Banish bleach and ammonia from your home as much as you can, and scrub copper pots with a paste of baking soda and water to get that shine back. Hard surfaces and vinyl upholstery react well to gentle solutions like watered-down dish soap.
Upcycle and Reuse
Reduce your spending and trips to the store by giving old household items new life. Make rags out of old T-shirts. Use old toothbrushes to scrub those hard-to-reach spots. Cut the tops off old plastic bottles to create small planters. Plant peppermint in an old plastic bottle to keep mice at bay or citronella to ward off insects and spiders.
Next time you take a weekend to do house chores, think about the environment and clean carefully. When you swap out your chemical-laden cleaners for gentler DIY or all-natural options, you get the best of both worlds: a clean house and less impact on our environment. With these eco-friendly tips for cleaning your house, your home will shine, as will Mother Nature.