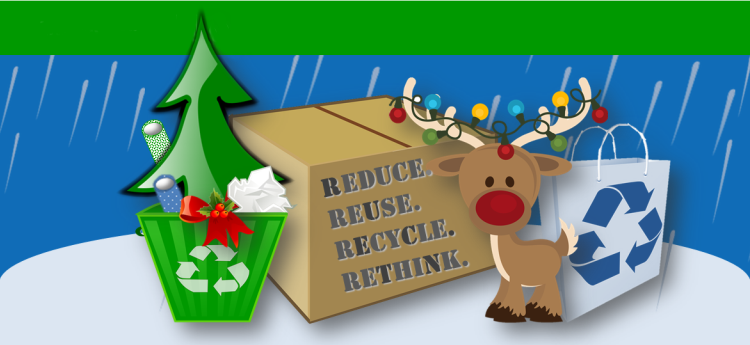 'Tis the season for a huge increase in solid waste and recycling across Massachusetts. As the holiday gift-giving and entertaining season kicks into high gear, here are 7 ways you can reduce waste and avoid contaminating your recycling bin with non-recyclable items*:
1. Offer recycling bins and reduce waste at your parties. Make it easy for guests to recycle by placing a clearly labeled recycling bin right next to the trash can. Communicate what should NOT be recycled as well, including napkins, red or green Solo cups, and plastic cutlery. In addition, take steps to reduce the need for recycling by avoiding single-use plastic, aluminum, and paper products.
2 Use eco-friendly gift wrapping. Purchase wrapping paper made from recycled materials and that is also recyclable. Many cities and towns accept wrapping paper in their recycling collections, as long as it's non-metallic and glitter-free. However, tissue paper is not recyclable, so save it for next year, or better yet, just skip using it in the first place.  
3. Recycle your cardboard. The living room floor can look a lot like an Amazon warehouse during the holidays. When you're done unwrapping your gifts, be sure to break down the boxes and put them in your recycling bin or take them to a drop-off center. Be sure to remove any plastic film or Styrofoam packaging.
4. Keep holiday tanglers out of your recycling. Stringy decorations like holiday lights and tinsel may look good on trees, but they create a mess once inside recycling facilities. Malfunctioning lights and tinsel should be thrown into the trash. Some communities and home improvement stores do collect old light strings, so check with your town or city.
5. Shop sustainably. More brands than ever before are using recycled materials in their products. When shopping for your holiday gifts this season, consider choosing brands that are made with ocean plastic, reused fibers, or recycled paper and that avoid unnecessary packaging.
6. Bring your own shopping bags. Remember to bring reusable shopping bags every time you head out to go shopping. If you're still using plastic bags, be sure to keep them out of your recycling bin. Instead, return them back to the store to be recycled.
7. Recycle your old electronics. Got a shiny new computer or mobile phone this holiday season? Don't toss out your old model—recycle it by bringing it to your local electronics recycling drop-off center or a local electronics retailer. You can recycle up to three electronic items each day at Best Buy. 

For more information about what is and what is not recyclable in Massachusetts, visit RecycleSmartMA.org.

*The source for some of this material came from The Recycling Partnership.