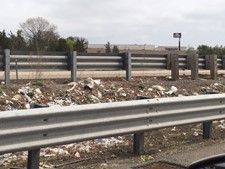 After another long New England winter, Massachusetts residents are now bidding a welcome hello to spring. The sun is setting later and the daffodils edge closer to blooming every day. But with the last of the snowbanks now melted away, vast amounts of litter are once again visible everywhere you look. 
From Cape Cod to Boston to the Berkshires and everywhere in between, litter is visible along virtually every Massachusetts highway, sidewalk, public park, hiking trail, and beach. Eventually, much of this litter makes its way into streams, rivers, and our oceans.
Every year, the taxpayers of Massachusetts spend millions of dollars to clean up this mess. In addition, thousands of volunteers from Keep Massachusetts Beautiful's 40 local chapters and other volunteer groups donate countless hours battling the ever-growing piles of litter.
Yet virtually no money or effort is dedicated to LITTER PREVENTION in Massachusetts. Over the past few years, we have written to our Governor and the head of the Massachusetts Department of Transportation (MassDOT) and urged them to demonstrate some leadership on this issue. 
Massachusetts needs a comprehensive, coordinated Anti-Litter Public Awareness Campaign that would include a consistent, memorable, Massachusetts-themed anti-littering message. These messages could be displayed on electronic message boards along our highways, as well as on MassDOT-managed billboards. Public Service Announcements could be broadcast on TV and radio, local cable access TV, social media, and be integrated with Registry of Motor Vehicles communications to drivers. 
We should also incorporate basic anti-littering lessons into our schools' curriculum to avoid raising another generation of litterers. But only if our state leaders show some leadership on this issue.
Volunteers can accomplish only so much, especially when it comes to cleaning our interstate highways. We need Massachusetts leaders to take a stand against litter. Other governors and states have championed similar campaigns to raise awareness about litter prevention and educate people of all ages to dispose of their trash properly. 
This includes Don't Mess With Texas, Nobody Trashes Tennessee, Love The Boot (Louisiana) and Virginia is For Lovers, Not Litter. Stepped-up police enforcement of existing—but largely ignored—anti-littering laws would also help. 
Business leaders can also do their part by partnering with Keep Massachusetts Beautiful to provide volunteers, board members, and financial support. Together, we can work toward creating a more beautiful state, something that's good for businesses, the economy, the residents of Massachusetts, and our environment.
While we wait for our state's leaders to finally take action, here are foursteps you can take to support our cause: