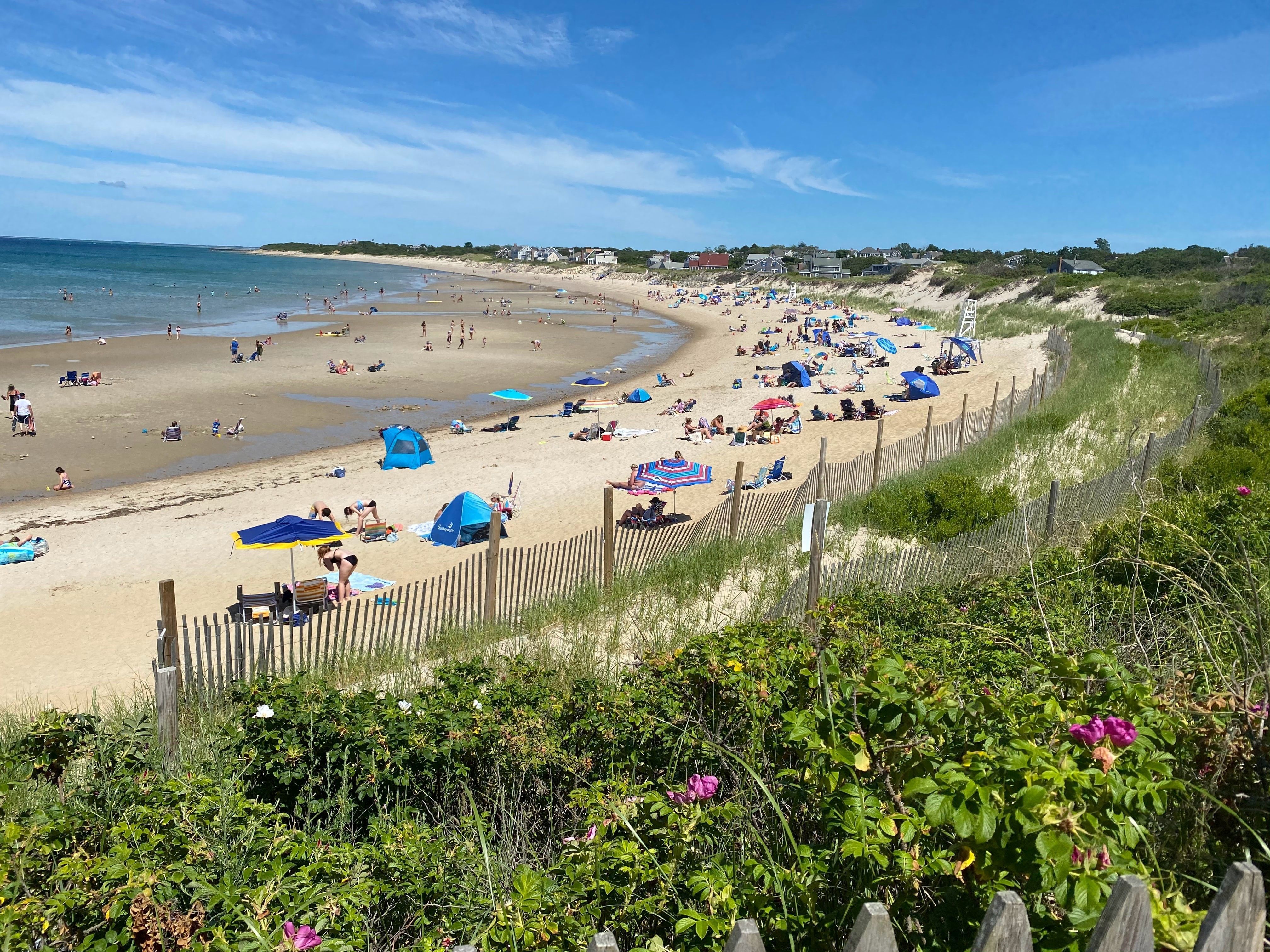 After a long Massachusetts winter and a cool spring, many Massachusetts residents are looking forward to beautiful days on the beach this summer. While our days in the sun and surf can be lovely, they can also be detrimental to the very environments we all cherish and enjoy. 
Enjoying the beach—sunbathing, picnicking, playing on the sand—can have a considerable and often negative impact on the shoreline and the creatures that call it home. So before you pack up to hit the coast this season, read on to learn how you can minimize the impact of your beach days.
Start With Your Skin
Did you know that some ingredients in your sunscreen rinse off in the ocean and harm marine life? Oxybenzone, octinoxate, nano titanium dioxide, and nano zinc oxide are all common sunscreen ingredients that wreak havoc on coral reefs and sea creatures. This issue went undetected for decades but was discovered in the early 2000s. Only in recent years have we seen substantial action taking place. For instance, in 2018, Hawaii became the first U.S. state to ban the sale of sunscreens containing oxybenzone and octinoxate. 
When you shop for sunscreen this summer, look for "reef safe" sunscreen. More importantly, read the ingredients list in detail and especially look for non-nano zinc oxide options, as "reef safe" is currently not a regulated term and can sometimes be misleading. There are a wide variety of brands selling safer sunscreen options. Some are available at nationwide retailers like Walmart for around $9 a bottle. 
Sunscreen choices aside, try going to the beach during non-peak sun hours (after 3 p.m.), wear sun protective clothing, or bring an umbrella and sit in the shade. Doing this will help keep your skin looking young while avoiding adding harmful chemical pollution to our oceans. 
Leave No Trace
Litter can be a big problem on public beaches, especially at popular tourist destinations. Trash pollutes the sand and sea, harms marine life, and is an overall eyesore. Ensure you are not part of the problem by reducing your waste, managing your waste and recycling properly, and pitching in to clean up litter when you can.
When packing for your lunch, snacks, or sunset meal, opt for reusable containers and utensils, rather than plastic bags, utensils, or aluminum foil. Bring a reusable water bottle rather than water that is packaged in plastic. Not only will this help decrease your waste, but it will also help keep your food fresh and keep it from getting soggy. If you need to bring items that include disposable packaging, make sure you bring a trash bag so that you can store these discarded items until you are ready to leave and throw them out. Never leave these items unattended in the sand, as it only takes one gust of wind (or a hungry seagull) to move them miles down the shore or into the water. Bring a separate bag for recycling, and if there is no public recycling bin, bring your recyclables home with you.
If you're a fan of collecting seashells or sea glass, try bringing an extra bag with you as you comb the shore. Have one bag for shells and treasures, and another for trash you may find along the way. You'll likely find a lot of cigarette butts as they are the most commonly littered item in America. These butts leak toxins into the water and poison marine life. To keep your favorite beach litter-free, sign up for the Massachusetts Litter Cleanup Crew and we'll ship you a Litter Cleanup Kit.
You may also come across perfectly useful items on the beach such as beach chairs, sand toys, towels, and boogie boards that were left behind or forgotten. Bring these items to the lost and found dropoff (if there is one), clean them and enjoy them on your future beach days, or gift to a friend or child who may enjoy them!
Respect the Beach As a Home to Wildlife
The beach is ours to enjoy for a few hours or a few days, but it is home day in and day out to countless marine animals and other wildlife. As you enjoy your day, be mindful that you are entering their home and do your part to not disturb them.
Just as the beach is not our permanent home, nor is it a home for our dogs or other pets. If you plan to bring your dog to the beach (assuming it's allowed), be sure to keep them on a leash. Having your dog off-leash on the beach can create a host of problems. Dogs can interfere with or even harm other wildlife on the beach. This is especially important for beaches that have large sanctuaries or protected areas for threatened, endangered, or vulnerable animals. And it goes without saying that you should always clean up your dog's waste. To make the process of transporting your dog waste easier, consider buying a Doo Doo Tube!
Obey all signs that may denote animal habitats, sanctuaries, or other safe spaces for animals to live, eat, and breed. This is especially important for species like the Piping Plover, a state and federally threatened shorebird that nests on Massachusetts beaches. Even when signs are not present, it is best to keep off dunes and avoid using lights on the beach at night to help protect these animals' habitats. 
As always, never feed or touch wildlife you may come across on the beach. Enjoy their presence from a comfortable distance and reach out to local organizations if you fear an animal could be hurt or stranded.