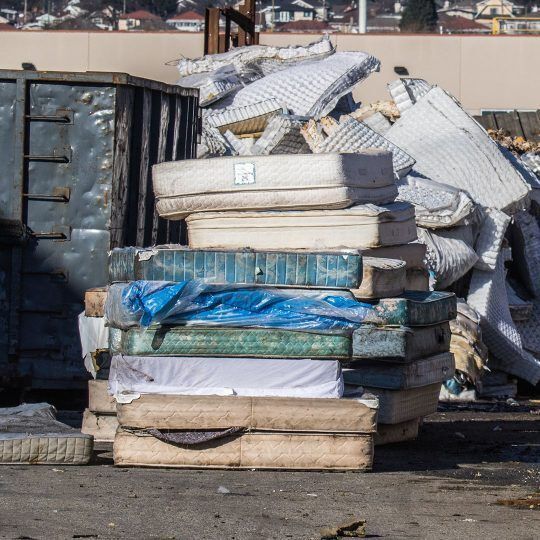 New regulations went into effect on November 1 that aim to promote recycling and reduce trash disposal across Massachusetts. Notably, mattresses and textiles have now been banned from disposal.
Why is this ban in effect?
Each year 600,000 unwanted mattresses and 200,000 tons of textiles from Massachusetts are sent to landfills or waste incinerators. One third of the mattresses come from residents and two thirds come from businesses and institutions.
The Massachusetts Department of Environmental Protection's (MassDEP) 2030 Solid Waste Master Plan seeks to increase diversion of this waste and ensure that these materials are recycled.
Mattresses are difficult to manage at solid waste facilities, as they take up a great deal of space. Yet more than 75% of mattresses can be effectively separated and recycled, including metal, wood, fabric, and padding materials. These parts can be separated and broken down for reuse and recycling. Think about all that potentially recycled material going to waste—literally!
As for textiles, tons of clothing and other materials, including towels, linens, bags, belts, and shoes, get placed in the trash, rather than being donated, recycled, or repurposed. In fact, Bay Staters are six times more likely to trash these items than donate them, and about 85% of the textiles that are typically thrown away could be donated, reused, or recycled instead. Most textiles that are still wearable and have resale value. Those that are not wearable can have second lives as carpet padding, insulation material, or cleaning rags.
Diverting these materials from landfills and incinerators to recycling or donation facilities, or repurposing them in our own homes, helps reduce energy consumption, greenhouse gas emissions, and preserve precious capacity within our landfills and incinerators. Furthermore, this diversion contributes to job growth within the recycling industry, contributing millions of dollars to the Massachusetts economy.
What do I do now with my mattresses?
Mattresses must meet certain criteria before they can be recycled. They must be constructed of metal, textiles, wood, and/or foam, and also be dry and free of mold. Futons, air mattresses, mattress pads and toppers, and water beds are not typically accepted for recycling by mattress recyclers.
To dispose of a mattress or box spring, start by checking your local municipality's website for information about local recycling programs. You can also check with MassDEP to see if your town or city is included on their mattress recycling program map. Boston residents will need to schedule mattress collection beginning in January 2023 by calling 3-1-1. If your city or municipality doesn't offer this service, check out RecyclingWorks' Find-a-Recycler. Pricing will vary based on the amount of travel distance and where the mattress is located (e.g., first floor vs. third-floor walk-up).
To avoid paying fees entirely, consider donating your mattress. A few organizations that will accept mattress donations include College Hunks, Furnishing Hope, and New Life Furniture Bank of MA.

What do I do now with my textiles?
Textiles include clothing, linens, and other fabrics. As long as your textiles are clean, dry, and odorless, they should never be placed in the trash, as they can be reused or converted into new products. Textiles should also not be put in your curbside recycling bin.
To give your textiles a second life, donate them at drop-off centers or bins. Start by checking your local municipality's website to see what types of programs are available locally. Simple Recycling and Helpsy also offer at-home pick-up for used clothing and shoes in some Massachusetts communities.
Remember that recycling programs will not accept textiles that are wet, moldy, or contaminated with oil or other hazardous substances—those should go in your trash.
There are many ways to repurpose and recycle textiles, starting in your own home. Old tee-shirts and towels can make for great cleaning rags. Simply cut your fabric in desired sizes and use your new rags around your home while you clean or work on creative projects. Old sheets can be used as paint drop-cloths.
Animal shelters are always looking for donations of towels and linens as well. Call your local shelter to see if they are currently collecting these items. Often you can schedule a pick-up or swing by their facility to drop off your used goods.
If you have clothing that you no longer wear, consider bringing your items to a thrift or consignment store, donation center, or post them in a Buy Nothing group on Facebook. You can even make money off your old clothing by selling on apps like Poshmark. Several big-name retail clothing and shoe stores also participate in take-back programs including Levi Strauss & Co, Patagonia, The North Face, and Nike.
Beyond Mattresses & Textiles
MassDEP's Recycle Smart website is a fantastic resource for managing your unwanted items. On their website you can search Beyond The Bin, where you can easily figure out what to do with your unwanted items. The search will allow you to filter by material type, and you can specify whether you prefer to drop-off, mail-in, or have an organization pick up your items. The material listings not only include mattresses and textiles, but also books, bicycles, batteries, eyeglasses, furniture, paint, pallets, propane, scrap metal, and more!
Learn More:
Listen to the MassRecycle Mattress Recycling Podcast
Listen to the MassRecycle Textile Recycling Podcast