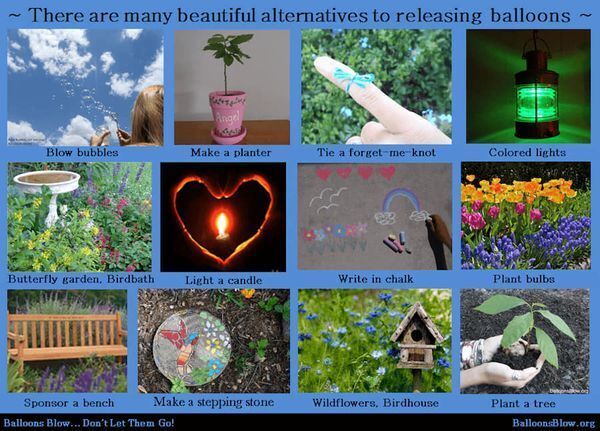 Balloon releases are commonly used for commemorative celebrations and in memoriam events. While balloon releases can offer beautiful symbolism in "letting go" and "reaching the heavens," from a logistical and environmental perspective, all they do is create harmful waste.
All balloons that are released into the air eventually return to the Earth as litter. Balloons have the capacity to travel thousands of miles from their release point, enabling them to pollute even the most remote and pristine landscapes.
Balloon releases are causing harm & reducing helium supplies
Releasing balloons is more than just a litter problem. Released balloons can harm animals, humans, and even our environment by leading to accidents, injury, and even power outages.
Mylar balloons, the shiny metallic, silver-like balloons, cause thousands of power outages each year when they float away and come into contact with power lines.
Even balloons marked as "biodegradable" are harmful, as they can cause damage before they decompose. Because of this, there is no such thing as a "harmless" balloon release.
Balloons are also a waste of a precious finite resource — helium. Currently, we are facing a helium shortage in the U.S. While you may mostly associate the gaseous chemical with bouncy decorations, helium is actually used in a variety of essential medical procedures, including MRIs. Doctors around the world are concerned about this helium shortage, and using helium for balloons is only making the shortage worse.
A report from NBC News points out that "liquid helium is liquid gold to a host of industries." According to Bill Halperin, a professor of physics at Northwestern University, "helium is a nonrenewable resource. NASA and SpaceX need helium for liquid fuel rockets. The MRI industry needs helium. The pharmaceutical industry is reliant on helium. And so is the Department of Defense."
One popular alternative to balloon releases is "sky lanterns," sometimes referred to as Chinese lanterns. During festivals in countries such as China, Brazil, and India, it is common to look up and see hundreds of glowing paper lanterns floating up into the night sky*. These lanterns are like tiny hot air balloons that use a candle or fuel cell to heat the air inside the lantern, causing it to rise and float away*. However, these lanterns create similar litter problems and are also a fire hazard. In fact, they are illegal is some U.S. states.
Eco-friendly alternatives to balloon releases
The nonprofit Balloons Blow has compiled a list of 20 alternatives to balloon releases. There are some really creative ideas that are mostly low-cost and low-impact to use in your next commemorative event or celebration!
For commemorative events:
Planting in remembrance
Drumming
Floating flowers
Wildflower seed bombs
Jumping rope, running, or walking for a cause
Candle-lighting
Blowing bubbles
Book and food drives
For decoration replacements:
Flags
Banners
Streamers
Dancing inflatables
Kites & garden spinners
Bunting
Ribbon dancers
Pinwheels
Tissue pompoms
Other ways to help the cause
Balloons Blow, Inc. is a nonprofit that allows individuals to report a balloon release. They also have educational resources linked on their site so you can spread the word through student action packs and more.
Generally speaking, it's best to avoid the use of rubber or mylar balloons altogether—not just in releases. While they are fun to look at, they are a single-use waste of precious natural resources and create even more solid waste that ends up in a landfill or an incinerator.
Empower yourself and those in your life to rethink the need for balloons—whether for parties, corporate events, or other events—and plan to use other decorative alternatives.
*Are Sky Lanterns Legal in California? (HS 13001), by southernblog