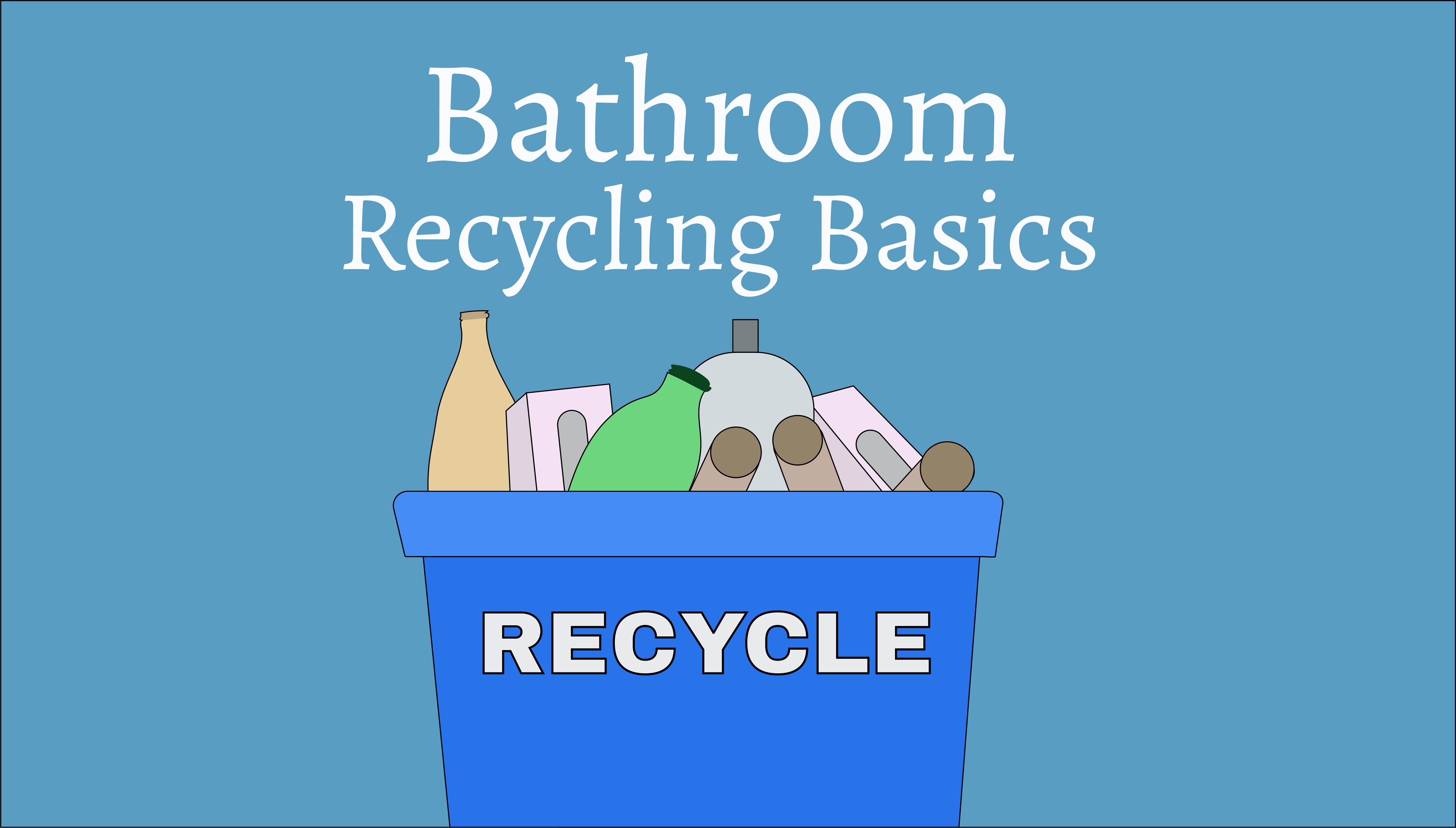 The bathroom is a busy place in almost everyone's home and holds many different products we use every single day. But when it comes to recycling, it's not always top of mind and is often a place where numerous MROs (missed recycling opportunities) occur. 
While some of us have become fairly adept at what we can recycle in our kitchens, it's not always that way with the bathroom. So, in this post, we're going to look at what exactly is and what is not recyclable in the bathroom. 
Step one in this process is to place a dedicated recycling bin in your bathroom. This will increase the likelihood that household members will remember to recycle in the first place. Consider repurposing an existing bin or purchase a new one and find a conspicuous spot for it in the bathroom.
It's also important to avoid bathroom "wish-cycling." This occurs when people who are unsure as to whether a particular item is recyclable toss it in the recycling bin and simply hope for the best. Wish-cycling contaminates recyclable materials, making them less valuable and, in many cases, unusable. Recycling contamination also adds extra work and expenses for recycling sorters. 
Okay, on to the bathroom! Bathrooms have no shortage of products. So, exactly what should we be recycling? It really boils down to the shape and material of the product. The list below includes the most common bathroom items and whether or not they can be recycled here in Massachusetts. 
YES, RECYCLE!
Toilet paper rolls
Shampoo and conditioner bottles (remove pump first, empty and rinse)
Shower gel bottles (empty and rinse)
Cardboard boxes (toothpaste boxes, soap boxes, etc.)
Bathroom cleaners (remove pump first, empty and rinse)
Bleach bottles (empty and rinse)
Hand soap bottles (remove pump first, empty and rinse)
Moisturizer bottles (remove pump)
Mouthwash bottle (empty and rinse)
Box that facial tissue comes in
Bubble bath bottles (empty and rinse)
Boxes that feminine hygiene products come in
Sanitizing wipe containers (empty and rinse)
NO, PUT IN TRASH BIN
Toothpaste tubes 
Toothbrushes (they're too small)
Razors (safety hazard for workers) and handles (they're too small)
Shampoo and conditioner tubes
Shaving cream cans
Hair spray and other aerosol bottles
Deodorant tubes
Cotton swabs and cotton pads
Most creams that come in tubes
Facial tissue
Cosmetic containers (eye shadow palettes, etc.)
Feminine hygiene products
Sanitizing wipes
Until bathroom recycling becomes a habit, it may be helpful to print out a list of what's recyclable (and how to make it recycle-ready) and post it in your bathroom near your bin. That way you don't have to go looking things up when you finish that bottle of shampoo.
But if you're not feeling super motivated to figure out all this recycling stuff or if you want to create less waste in general, there's another even better option—moving to zero-waste products. If that is something you'd like to learn more about, see our prior blog posts here and here to get started. 
For more information on what is and isn't recyclable in Massachusetts, go to recyclesmartma.org.