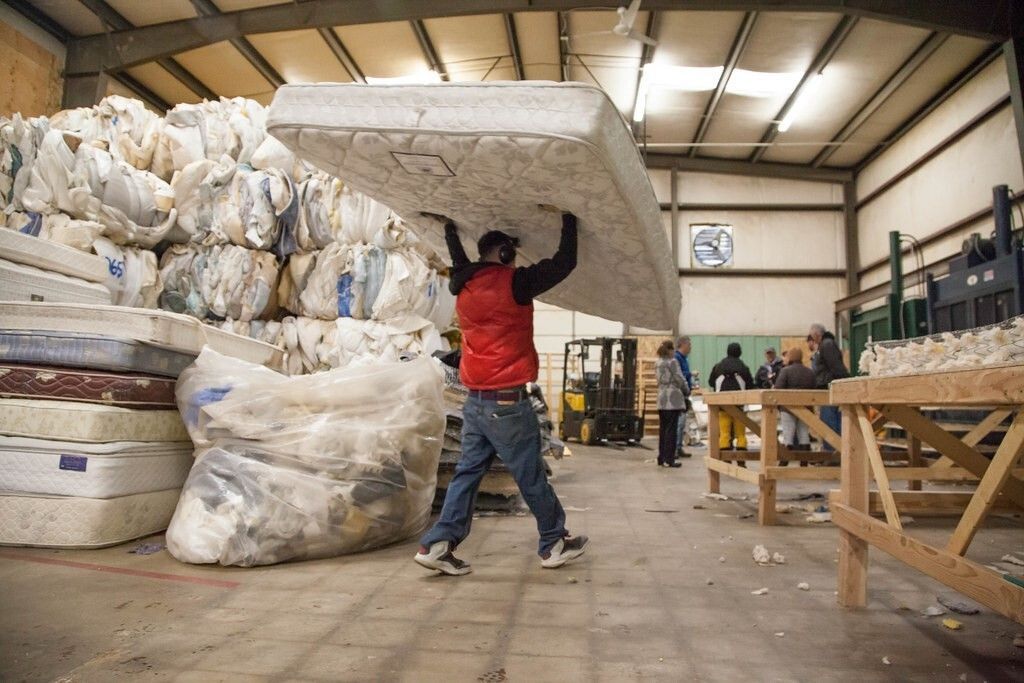 Late last year, new regulations banned mattress and textile disposal across Massachusetts. Since then, some communities have seen an uptick in the illegal dumping of mattresses.
Why? Because some residents have been trying to avoid the costs associated with proper recycling or disposal of mattresses. Keep Massachusetts Beautiful reached out to the Massachusetts Department of Environmental Protection (MassDEP) regarding this issue to learn more about the background of this ban, and to learn how residents can comply with the new regulations without breaking the bank.
First, it's important to understand the rationale for the recent ban on the disposal of mattresses that went into effect on November 1, 2022. Massachusetts has a large disposal capacity shortfall—which means simply that the five remaining landfills that operate here are running out of room. Unless they receive approval to expand their footprints, all landfills in Massachusetts are due to close by around 2030.
This problem is common throughout the Northeast, as few communities are eager to see a new or expanded landfill or waste incinerator operating within their borders. Without local disposal facilities, the only alternative is to ship mattresses to out-of-state waste management facilities—which is a very costly process.
Mattresses are being targeted by MassDEP because they are bulky and have a disproportionate impact on the state's waste management capacity and costs. Most Massachusetts landfills and incineration facilities do not want to take mattresses and already charged a surcharge for disposal even prior to the ban.
Give Your Mattress A Second Life
The good news is that there is an alternative to disposal—recycling! In fact, the new Massachusetts 2030 Solid Waste Master Plan emphasizes this approach.
In the years leading up to the mattress disposal ban, MassDEP offered recycling grants for cities and towns, business grants to foster increased recycling infrastructure, and issued a state contract for mattress recycling services. A majority of municipalities are active in these recycling programs and efforts.
Currently, fees vary widely for mattress recycling and disposal, with some higher quotes at around $100 for each item for collection and recycling. As time goes on, fees are expected to settle down to market-level prices. While there is a cost to mattress recycling, the recycling cost is typically less than disposal surcharges, so in most cases, it should be possible to implement cost-effective mattress recycling programs at the municipal level.
MassDEP advises consumers and residents to shop around when getting quotes for collection and recycling. There are also a variety of potential options for managing used mattresses, including:
If you are buying a new mattress, contact your retailer to see if they will take back the old one. Many retailers that offer delivery provide some form of take-back program.
If your mattress is still in good condition, it may be possible to donate it, as some furniture banks accept mattresses. You can search for donation options using MassDEP's Beyond The Bin directory.
If your mattress can't be taken back or donated, check to see if your municipality offers a recycling program. Note that some municipalities that do not offer their own recycling programs allow residents to participate via a neighboring municipality's program.
If you live in a municipality without a mattress recycling program, and none of the above options work, ask local leaders to contact a state-contracted recycler or use RecyclingWorks' Find-A-Recycler tool. Again, shopping around will help ensure you are getting the lowest possible quote.
Lastly, be mindful that mattresses being considered for recycling or donation need to be in good condition, meaning dry and free of mold or other contamination. Futons, air mattresses, water beds, mattress pads, and toppers are typically not accepted for recycling. These items, as well as soiled or contaminated mattresses, can be disposed of as they had been prior to the mattress disposal ban.