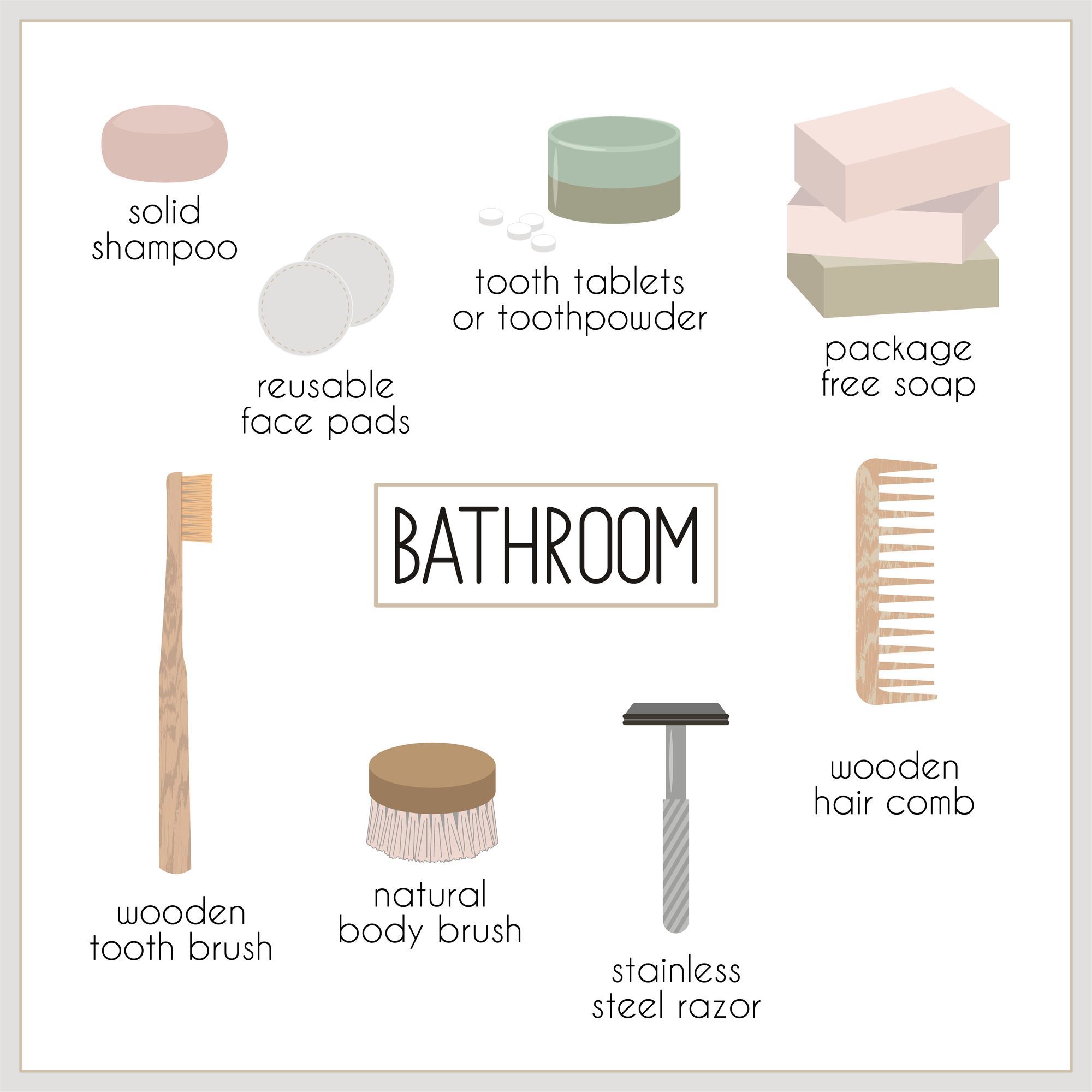 Reducing plastic waste in your home can seem like a daunting and overwhelming task. Once you are in the habit of buying certain products it can be hard to change your routine. However, if you start small, eco-friendly lifestyle changes become more doable.
Looking for a small space in your home to begin making these changes? Start with your bathroom(s)! Your bathroom may have a small footprint in your overall home, but it is chock full of wasteful products that you can swap out for better alternatives.
The best way to tackle this space is to approach it with a "declutter and decrease" mindset. Keep reading to see how you can opt out of disposables, unnecessary plastics, and switch to reusable versions of your favorite bathroom items.
Start by decluttering your bathroom space
The first step in any good cleaning or makeover project is to take inventory of what you're working with. First, pull all the products out of your bathroom cabinets, drawers, shower, and closets.
Start by separating your essential items (e.g., toothbrush, toothpaste, soap, etc.) from items that are used less frequently (or in some cases, never). You may be surprised to find a lot of items that are unopened, rarely used, or were gifts that you totally forgot about. Which products do you actually use and what is maybe just collecting dust?
Donate, regift, recycle or trash any products you don't plan to use, or those that may be expired. Of the items you choose to keep, the next step will be deciding if you can find better, less wasteful alternatives in the future.
Opt out of disposables and choose compostable or reusable items
The problem with most household items, especially those we use in the bathroom, is that they are created to be single-use and disposable. This creates an endless stream of waste that is piling up in our landfills or being burned in incinerators.
While you are taking stock of your must-have bathroom items, consider which are single-use and research if there is an alternative reusable option. If a reusable option doesn't exist, you may be able to find a replacement that is made from sustainable materials or that may be compostable instead of disposable.
Here are a few great swaps to consider:
Toothbrushes: You can't use the same toothbrush forever, but you can opt for toothbrushes made from bamboo or recycled plastic, rather than virgin plastic. If you use a battery-powered toothbrush, use rechargeable batteries rather than single-use disposable batteries.
Toothpaste: Consider replacing toothpaste from a plastic tube with toothpaste tablets.
Soap: Ditch the body wash that is packaged in plastic containers for good old-fashioned bar soap. You'll reduce plastic consumption and save money.
Razors: Rather than using a disposable razor handle that you'll toss out, consider using an electric razor or a razor with a reusable handle.
Makeup wipes: Do you wear makeup most days? If so, then you're likely creating waste on a daily basis from your makeup wipes. Instead, use a reusable washcloth or compostable makeup wipes.
Loofahs: Plastic loofahs can be swapped for reusable washcloths or sea sponges, which are compostable.
Cotton swabs: Did you know that cotton swabs are not even recommended by doctors? They also create a ton of waste! Ditch the swab entirely.
Toilet paper: Don't worry, we're not going to tell you to swap your toilet paper for reusable toilet sheets… but you could opt for toilet paper that is made from recycled paper.
Menstrual products: There are a variety of reusable menstrual products available to further reduce plastic consumption.
Decrease plastic and other unnecessary packaging from your bottled items
Most of the non-reusable items in our bathroom are stored in plastic—think shampoo, conditioner, toothpaste, lotion, etc. This creates tons of avoidable plastic waste.
There are ways to decrease or altogether remove this wasteful packaging, by opting for…
Refillables: Refill stores are popping up across the country, and there are many right here in Massachusetts! They allow you to buy their containers, or bring your own, and refill your favorite household products instead of buying disposable containers. If you don't have a local refill or zero-waste store close to you, some larger brands are starting to offer refill services, such as Dove and Bath & Body Works.
Bar products instead of liquid: Liquid products require a greater amount of plastic packaging. You can buy products such as soap, shampoo, conditioner, or even lotion in bar form instead, which greatly decreases the packaging, and even makes it easier to travel with your favorite products!
Glass or metal containers: While some plastics are recyclable, much of what we use sometimes ends up not being recycled. It's better to opt for glass or metal containers whenever possible. These can be more easily recycled than plastic, or more easily repurposed in your home as storage containers.
Making eco-friendly lifestyle changes can be challenging, but with some determination, these common-sense alternatives can make a big impact.
Learn more about how to recycle bathroom items correctly.