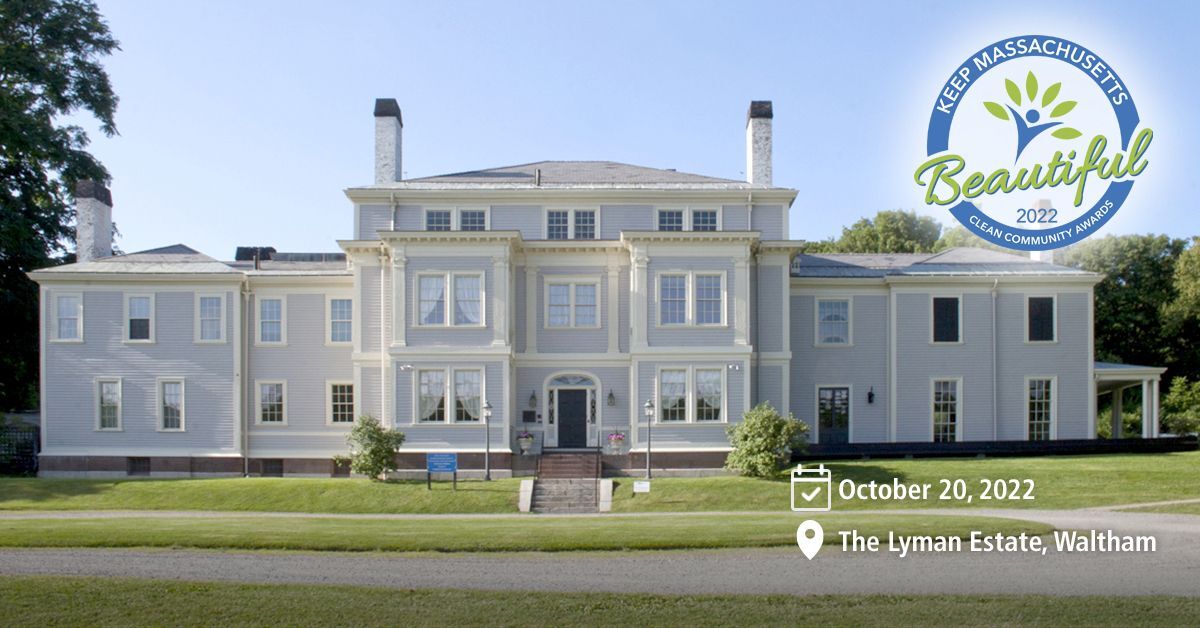 As summer begins to wind down and you prepare for a busy fall, be sure to snag your ticket for one of the best events of the season—the Massachusetts Clean Community Awards! Tickets are on sale now, and early bird pricing of $45 per ticket ends on September 1.
The Massachusetts Clean Community Awards recognize Massachusetts residents, nonprofits, government leaders, and businesses for exceptional environmental protection and community cleanup efforts. This year, the event will be held on Thursday, October 20 from 6 p.m. to 9 p.m. at the Lyman Estate in Waltham.
Built in 1793, the Lyman Estate is a National Historic Landmark and was once Theodore Lyman's Federal Country Estate. Its 37 acres include stunning gardens and historic greenhouses. The Lyman Estate is the perfect setting to admire New England beauty and celebrate the efforts made by those in our community to preserve it.
The awards night brings together leaders and members from Keep Massachusetts Beautiful's 42 local chapters, state legislators, municipal leaders, business leaders, community members, and local media. It is a fantastic event for networking and connecting with like-minded, passionate changemakers from all industries and towns across Massachusetts.
Not to mention, the gala is a night of fun! Throughout the evening there will be a silent and online auction, delicious food including hors d'oeuvres and desserts, music, and adult beverages. The night concludes with the awards presentation from 8:00 to 8:30.  
In addition to purchasing your ticket for the event, be sure to submit your nominations for the awards. There are seven categories for "KMB Best of the Year," including: Environmental Legislator, Business Partner, Litter Buster, KMB Chapter Leader, Municipal Partner, KMB Rookie Chapter, and KMB Youth Volunteer. Nominations are due no later than September 15.
All it takes to nominate someone is the name and organization of your nominee, nomination category, and a brief rationale for your nomination. Celebrating our community champions is the whole reason we gather each year, so be sure to do your part and submit a shoutout for a local changemaker! You can click the following links to view winners from the 2019, 2020, and 2021 awards.
In addition to submitting nominations, you can support the awards night by participating as a corporate sponsor. Own a business or know someone who does and may be interested? Contact Neil Rhein, KMB Executive Director, at neil@keepmassbeautiful.org or (508) 320-8621.
We hope to see you on October 20!