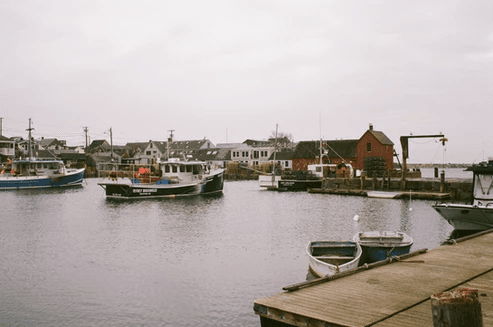 If every registered Massachusetts boat owner used shrink wrap annually, over 2 million pounds of the harmful polyethylene material would be used and most likely thrown in a landfill. That is a statistic presented by the Woods Hole Oceanographic Institute, and frankly, it is terrifying. One of the worst parts about this source of excessive plastic waste is that plastic shrink wrap actually costs more to use in the long term than a one-time purchase of a reusable boat cover.
In 2018, around 7.6 billion pounds of shrink wrap were manufactured in the U.S., and a depressing 3% of that wrap was recycled. This wrap then goes to a landfill and is not biodegradable. But, the good news is shrink wrap waste can easily be curbed in a myriad of ways.
First, if you have already used shrink wrap and are wondering where the plastic should end up next, consider these relatively sustainable options. NuDay Syria is a non-profit organization, headquartered in New Hampshire, that provides humanitarian relief to women and children affected by conflict. This non-profit sends used, cleaned, and dried shrink wrap to areas in need where it can be used for shelter and cover. This charitable act would be especially appreciated given the current humanitarian crisis in Ukraine. The wrap can also be used as a tarp in a garden, and can even be transformed into composite lumber and plastic bags.
But, these recycling opportunities are only temporary solutions to this major waste issue. Luckily for boat owners, reusable boat covers reduce plastic waste and keep cash in your wallets. A reusable cover comes at the initial cost of about two years of shrink wrap. But, these covers last anywhere from five to ten years before needing repairs, and repairs can greatly extend the lifetime of these covers. If you are lucky, plastic shrink wrap can be reused once, resulting in the repeated purchase of this polluting wrap that slowly costs boat owners a fortune ("Think Before You Shrink").
Reusable boat covers are abundantly available online, especially if you live in Massachusetts. West Marine offers a variety of covers for different-sized vessels, and Outdoor Cover Warehouse's website lets you customize the cover to fit your boat's width, length, and shape.
Please consider purchasing a reusable cover, and save money in the process! Unfortunately, many people are unaware of shrink wrap's harmful effects on the environment and their wallets. So, if you live in Massachusetts, consider joining ocean cleanup events in your area through the state's Office of Coastal Zone Management and its COASTSWEEP program. Finally, Seaside Sustainability is joining Clean Ocean Access and their new shrink wrap recycling program, so volunteer with them here to make a difference!
References
Woods Hole Oceanographic Institute. (2020). Recycling and Reusing Boat Shrink Wrap – Public Service Announcement. Retrieved March 18, 2022, from https://www.youtube.com/watch?v=XqI_5m96SzA.
Gravelle, K. (2021, June 10). Coventry, Clean Ocean access collect 1,300 lbs of shrink wrap Saturday. RICentral.com. Retrieved March 29, 2022, from https://www.ricentral.com/kent_county_daily_times/coventry-clean-ocean-access-collect-1-300-lbs-of-shrink-wrap-saturday/article_f2865b02-c9e0-11eb-8964-bb373b5b8814.html
Empower with dignity: Nuday Worldwide. NuDay. (n.d.). Retrieved March 29, 2022, from https://www.nudaysyria.org/
Think before you shrink. Chesapeake Bay Magazine. (2021, November 22). Retrieved March 29, 2022, from https://chesapeakebaymagazine.com/think-before-you-shrink/
TARPS: Widest selection anywhere. Tarps | Outdoor Cover Warehouse. (n.d.). Retrieved March 29, 2022, from https://www.outdoorcoverwarehouse.com/a/tarps-collection.html
Article courtesy of Seaside Sustainability.